Topic: Jackson's Body Shop
Clarksville, TN – Hilltop Supermarket hosted its 23rd annual Easter Egg Hunt on Saturday, March 31st, 2018 with food, face painting, inflatables, games, and one of the biggest egg hunts in town.
"This has been going on since I was a little kid," Cody Jackson said. "We put out somewhere between 10,000 and 11,000 eggs this year. But, it may be even more than 11,000, we lost count."
Jackson says it takes a while to put that many eggs out, but they're all gone in a matter of minutes.
«Read the rest of this article»
Clarksville, TN – On Saturday, March 31st, 2018, Hilltop Super Market will hold their 23nd Annual Easter Egg hunt. Festivities will begin at 11:00am with the egg hunt starting at 2:00pm sharp.
There will be games, cup cake decorating, inflatables, face painting, bounce houses, food, fun and prizes for children of all ages. Best of all, Everything is free.
«Read the rest of this article»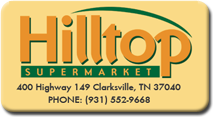 Clarksville, TN – Saturday, May 7th, was a great day for the Dwayne Byard Memorial BBQ Cook Off held at Hilltop Super Market. It was warm with a cool wind. Great weather for the event.
The smell of rich, sweet smoke was in the air. The aroma of grilling meat set your mouth to watering.
The cook off was held in honor of Dwayne Byard who past away last year. Proceeds from the event are going towards a scholarship fund for Dwayne's grandchildren.
«Read the rest of this article»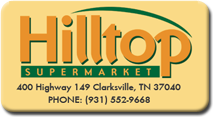 Clarksville, TN – On Saturday, May 2nd, Hilltop Super Market held their 6th Annual BBQ Cook-Off. The weather perfect for the event. The sweet aroma of BBQ cooking drifted along the cool breeze that day.
People drifted in and around the BBQ cooking contest all day. Hilltop was selling BBQ, ribs, etc, that everyone was enjoying.
"This is a great event. It is a good way to kick off Spring. What more American thing to do on a Saturday than to enjoy BBQ. I really enjoyed it," said Montgomery County Sheriff John Fuson.
«Read the rest of this article»