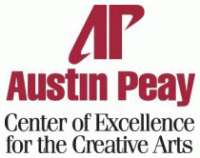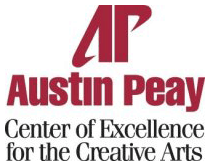 Clarksville, TN – For more than 25 years, the Austin Peay State University Center of Excellence for the Creative Arts has been providing students with a one-of-a-kind experience in visual arts, music, creative writing, theatre and dance.
To further the Center's goals of fostering the next generation of creative thinkers, a trio of students was recently honored with the Center's first-ever Undergraduate Research Fellowship.
APSU students Megan Oelgoetz, Benjamin McCormack and Conor Scruton were chosen for the inaugural fellowship, each presenting a paper outlining their passions and, if selected, the topics they would choose to explore during their fellowship.
Each fellowship winner will receive $2,000 to be used for travel, supplies or any additional needs that may arise during their research.
Christopher Burawa, director of the Center of Excellence for the Creative Arts, said that the three fellows represented the broad scope of interests the Center fosters.
"What characterizes each of the student projects selected for research support is the sophistication of their subjects," Burawa said. "And all of them have very defined goals for their research. I expect Ben, Conor and Megan to present some fascinating posters at the research forum in the fall."
All three fellows will receive the opportunity to research a subject and present their findings in a number of varied, creative formats.
Oelgoetz's project, titled "Motherhood Revisited" aims to "increate the visibility of maternal sacrifice." To that end, Oelgoetz aims to present an exhibition that puts a spotlight onto the sacrifices women make in order to become mothers in modern-day society. Her work will be displayed using art created with egg tempera paint, a medium dating back to first century CE, but used infrequently today in the United States.
Through his project titled "Theatre Management: an Introductory Study on Philosophy and Methodology," McCormack will spend the summer exploring the different management beliefs and tactics within theatrical environments. While some theaters aim for large commercial audiences, there are many theatres that focus on found spaces and Avant-garde productions.
Scruton, a developing poet, will conduct a research project titled "Picking Apart Apollinaire," which centers on translating the work of French poet Guillaume Apollinaire. Often called "the founder of modernist poetry in France," Apollinaire is a towering French literary figure, but his untranslated works have left him with a relatively low profile in the English-speaking world.
For more information, contact the APSU Center of Excellence for the Creative Arts at 931.221.7876, or email Burawa at .