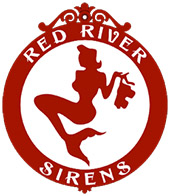 Clarksville, TN – The Red River Sirens next home bout is Saturday, May 16th against the Marietta Derby Darlins. Come out and catch some awesome derby action and help out our local community.
The Sirens will be taking item donations for the Montgomery County Friends of the Shelter. A portion of the proceeds of the game will also be going to the shelter.
The Red River Sirens are a non profit organization. They volunteer in the community and help out other non profits.
Tickets pre-sale are $8.00 each. Tickers are $10.00 at the door or $8.00 with an item donation to MCFOTS.
The doors open at 5:30pm and the whistle blows at 6:30pm.
All Red River Sirens home games take place at Magic Wheels Skate Center located at 1671 Fort Campbell Boulevard, Clarksville, TN.
List Of Items You Can Donate
Cleaning Supplies
Antibacterial hand soap refills
Bleach
Detergent (High Efficiency)
Dryer Sheets
Large pump hand sanitizer
Latex disposable gloves
Non-latex disposable gloves
Opaque plastic spray bottles
Paper towels
Office/Volunteer Supplies
Bottled water for volunteers
Copy paper
Gift cards to office supply store to buy printer ink
Dog Care
Large, medium and small collars
Leashes (new & used)
Food/Toys
Dog treats made in the USA- all bite sizes; puppy, small, medium, and large
Rawhide chews made in the USA
Purina Smart Blend Adult/Puppy food
Hard rubber toys/squeekie toys
Peanut Butter
Soft stuffed toys (small to medium)
For more information on the Montgomery County Friends of the Shelter, visit www.mcfots.org
About Clarksville Roller Derby League
Clarksville Roller Derby formed in 2010 as the first active roller derby league in Clarksville. Red River Sirens are the League's first team, and are currently in their third season of competition. To qualify for the team, skaters are required to pass the minimum skills test established by the Women's Flat Track Derby Association (WFTDA).
In addition to team and individual athletic training, skaters hold positions on various committees to keep the all-volunteer organization running. The league is a non-profit organization, operates under the
guidelines of the Women's Flat Track Roller Derby Association (WFTDA) and is run completely by volunteers.
The team's website is www.ClarksvilleRollerDerby.com.
About Roller Derby
Roller Derby is an American-made contact sport that originated in the early 1900s. The sport was highly popular in the 1970s when professional matches were televised and the sport shared a reputation for staged action. Today's game, which involves higher levels of strategy, is currently regaining popularity all over the country.
Teams are currently active in Nashville, Memphis and Knoxville. Roller Derby is experiencing a resurgence of popularity. Today's teams are all-female, self-organized, and feature athleticism and campy outfits. Men are welcome to participate as coaches, referees, announcers and in team support roles. The sport is governed by the rules of the Women's Flat Track Derby Association (WFTDA), which sets the rules and determines the baseline skills required of participants.
Visit www.wftda.com for more information.