Austin Peay Sports Information

Nashville, TN – Freshmen hurlers Zach Neff and Michael Costanzo combined for more than seven scoreless innings to help Austin Peay State University's baseball team post a 2-1 nonconference victory against Lipscomb, Tuesday night at Dugan Field.
Austin Peay (24-25 entering) got on the board first in the fourth inning. Second baseman
Garrett Copeland
and designated hitter
Dre Gleason
hit back-to-back singles to start the inning. Left fielder
Patrick Massoni
got the Govs on the board with a pop up that eluded the Bisons defense.
Neff got the game off to a stellar start, tossing four hitless innings. He did allow four walks, but struck out six of the 16 batters he faced to give the Govs offense time to deliver a run.
Austin Peay replaced Neff to start the fifth and Lipscomb (32-17 entering) took advantage of the Govs bullpen to tie the game in the fifth inning. Center fielder Michael Gigliotti hit a two-out single and, after a balk moved him to second, he scored on shortstop Grant Massey's single to center field.
That 1-1 tie would hold for two innings until the Govs would break the tie in the eighth thanks to a Lipscomb miscue.Shortstop Clayton Smithson began the inning with a bunt single and moved to second thanks to third baseman Ridge Smith's sacrifice bunt.
Right fielder Josh Wilson followed with an infield single the Lipscomb first baseman stopped, but his throw could not beat Wilson to the bag. Instead the throw sailed into the Austin Peay dugout, allowing Smithson to score, giving APSU a 2-1 lead.
Costanzo (1-3) entered the game in the fifth and tossed 3.1 innings of scoreless relief to make that hold up for his season's first win. He held the Bisons to two hits and a walk while striking out two. Alex Robles went to the mound in the ninth and worked around a lead off double for his season's third save.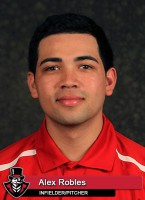 Lipscomb reliever Nick Andros (5-1) was the hard-luck loser after allowing one unearned run on two hits in two innings of relief. Bisons starter Will Blalock held the Govs to one run on six hits in the opening six innings.
Austin Peay was held to eight hits, Smith and Wilson each posting 2-for-3 outings.
Lipscomb was held to six hits, second baseman Mike Korte posting a 2-for-3 outing to lead the squad.
Austin Peay concludes the regular-season portion of its schedule with a three-game series against Evansville. That series starts with a 6:00pm, Thursday contest at Evansville.
Box Score
Austin Peay (25-25) -vs- Lipscomb (32-18)
| | 1 | 2 | 3 | 4 | 5 | 6 | 7 | 8 | 9 | R | H | E |
| --- | --- | --- | --- | --- | --- | --- | --- | --- | --- | --- | --- | --- |
| Austin Peay | 0 | 0 | 0 | 1 | 0 | 0 | 0 | 1 | 0 | 2 | 8 | 0 |
| Lipscomb | 0 | 0 | 0 | 0 | 1 | 0 | 0 | 0 | 0 | 1 | 6 | 1 |
W: COSTANZO, Michael (1-3)    L: ANDROS, Nick (5-1)    S: ROBLES, Alex (3)
Austin Peay 2
| | Player | AB | R | H | RBI | BB | SO | LOB |
| --- | --- | --- | --- | --- | --- | --- | --- | --- |
| 3b | SMITH, Ridge | 3 | 0 | 2 | 0 | 0 | 0 | 0 |
| rf | WILSON, Josh | 3 | 0 | 2 | 0 | 0 | 0 | 1 |
| 2b | COPELAND, Garrett | 3 | 1 | 1 | 0 | 1 | 0 | 0 |
| dh/1b | GLEASON, Dre | 4 | 0 | 1 | 0 | 0 | 1 | 2 |
| 1b/p | ROBLES, Alex | 4 | 0 | 0 | 0 | 0 | 0 | 0 |
| lf | MASSONI, Patrick | 3 | 0 | 1 | 1 | 0 | 0 | 0 |
| cf | HAMILTON, Chase | 4 | 0 | 0 | 0 | 0 | 0 | 0 |
| c | MARIK, T.J. | 2 | 0 | 0 | 0 | 0 | 0 | 2 |
| ss | SMITHSON, Clayton | 3 | 1 | 1 | 0 | 0 | 0 | 0 |
| p | NEFF, Zach | 0 | 0 | 0 | 0 | 0 | 0 | 0 |
| p | POWELL, Caleb | 0 | 0 | 0 | 0 | 0 | 0 | 0 |
| p | WALTON, Zach | 0 | 0 | 0 | 0 | 0 | 0 | 0 |
| p | COSTANZO, Michael | 0 | 0 | 0 | 0 | 0 | 0 | 0 |
| | Totals | 29 | 2 | 8 | 1 | 1 | 1 | 5 |
Batting
SH:SMITH, Ridge (1); WILSON, Josh (1)
Baserunning
SB:SMITH, Ridge (1)
CS:MASSONI, Patrick (1)
HBP:MASSONI, Patrick (1); MARIK, T.J. (1)
PO:WILSON, Josh (1)
Lipscomb 1
| | Player | AB | R | H | RBI | BB | SO | LOB |
| --- | --- | --- | --- | --- | --- | --- | --- | --- |
| cf | GIGLIOTTI, Michael | 3 | 1 | 1 | 0 | 1 | 0 | 1 |
| ss | MASSEY, Grant | 4 | 0 | 1 | 1 | 0 | 2 | 1 |
| lf | ALLISON, Jonathan | 4 | 0 | 0 | 0 | 0 | 2 | 1 |
| 1b | LEE, Adam | 2 | 0 | 0 | 0 | 2 | 0 | 0 |
| rf | LEE, Josh | 3 | 0 | 1 | 0 | 1 | 2 | 0 |
| pr | SOLOMON, Lee | 0 | 0 | 0 | 0 | 0 | 0 | 0 |
| dh | ASHCRAFT, Tyson | 2 | 0 | 0 | 0 | 1 | 2 | 0 |
| c | VAZQUEZ, Chucky | 4 | 0 | 0 | 0 | 0 | 1 | 3 |
| 2b | KORTE, Mike | 3 | 0 | 2 | 0 | 0 | 1 | 0 |
| 3b | HANKS, Hunter | 3 | 0 | 1 | 0 | 0 | 0 | 0 |
| ph | MOORE, Griffin | 1 | 0 | 0 | 0 | 0 | 0 | 2 |
| p | BLALOCK, Will | 0 | 0 | 0 | 0 | 0 | 0 | 0 |
| p | ANDROS, Nick | 0 | 0 | 0 | 0 | 0 | 0 | 0 |
| p | ZIEGLER, Jason | 0 | 0 | 0 | 0 | 0 | 0 | 0 |
| p | HWANG, Jaesung | 0 | 0 | 0 | 0 | 0 | 0 | 0 |
| | Totals | 29 | 1 | 6 | 1 | 5 | 10 | 8 |
Batting
2B:LEE, Josh (1)
SH:ASHCRAFT, Tyson (1)
Baserunning
SB:LEE, Adam (2); KORTE, Mike (1)
HBP:KORTE, Mike (1)
PO:LEE, Josh (1)
Fielding
E:LEE, Adam (1)