Instant Peay Play: Former APSU softball standout Lauren de Castro helps former high school to state title in California

Clarksville, TN – Lauren de Castro, just a year removed from a three-time First-Team All-Ohio Valley Conference softball career at Austin Peay State University, put her playing experience to work this spring in being a part of the coaching staff at Torrance (CA) High School and winning the CIF Southern Section Division 4 title.
The tournament victory was the first CIF Southern Section title for the Torrance Tartars (27-9) since 1991 and would translate to winning a state championship title game in the Tennessee State Secondary Athletic Association (TSSAA).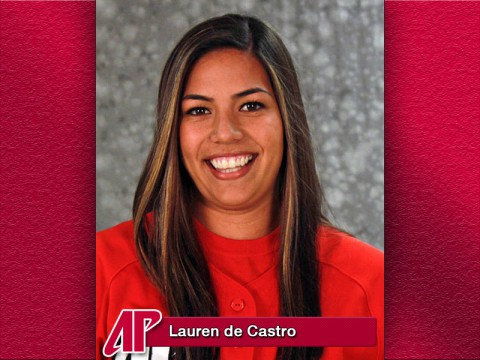 "Coach Don Glavich (who was de Castro's high school coach) called me last year when I was still playing at Austin Peay and told me that went I got back home he wanted me to be on the (coaching) staff with him," de Castro said. "I was pretty much involved with every aspect in coaching the team, but did spend a lot of time working with the pitchers, but also worked with the infield and outfield.
"Having played at Austin Peay gave me a lot of experience, both from a player's standpoint and a coaching standpoint. I learned a lot from my coaches in college and I was able to take a lot of what they taught me and added it to my coaching style – while also relating to the girls and what they're going through, because I've been through it before myself."
Seven years ago, de Castro had reached the championship game in her sophomore year at Torrance, falling 2-1 in that contest, which also happened to be the first year that Glavich coached the Tartars squad.
And this season, in storybook fashion, de Castro's team would have to face the number-one ranked team Highland High School (28-3) in the title game, with UCLA pitching signee and California Gatorade Player of the Year Rachel Garcia standing in their way.
But after three-plus hours and 13 innings, Torrance was able to push a run across against Highland – the first run the Bulldogs had given up in the postseason – for the 1-0 victory.
"It was an amazing feeling," de Castro said. "I've always wanted a (championship) ring when I was playing high school ball or when I was at Austin Peay, but unfortunately that didn't work out.
"But to be able to coach my first year out of college and win a ring is just mind boggling and hard to comprehend that it finally happened and I have a ring."
But while de Castro continues to work on getting her career in psychology fully underway, coaching is something that de Castro plans on continuing.
"Right now my main focus is getting a job in my field," she said. "But I want to stay on the Torrance High School staff for as long as I can.
"One I get to the career that I want and have kids I may pursue coaching at other schools, but right now it's working on starting my career and coaching at Torrance."