Celebrating 20 Years of Supporting Stronger, Healthier Babies
Nashville, TN – For two decades, Publix Super Markets, Inc. has worked alongside the March of Dimes to give all babies a healthy start in life.
This year, during their annual three week in-store March for Babies fundraising campaign, Publix customers and associates raised $6,050,470, an 18 percent increase from 2014, bringing their 20 year total to an impressive contribution of $57 million for stronger, healthier babies.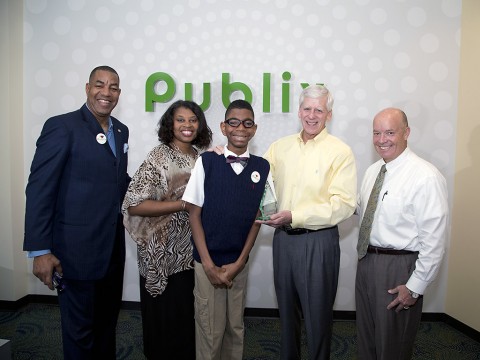 "We are thankful for the opportunity to partner with the March of Dimes, an organization whose mission is at the heart of every expectant parent, sibling, family member and friend," said Maria Brous, Publix director of media and community relations. It is our largest-grossing customer facing campaign and associate involvement peaks every spring when our own lace up their sneakers and walk for someone they love. We raise awareness within the communities we serve through passionate associates engaging the hearts and minds of our customers."
"We are grateful to Publix, their associates, and customers for supporting the March of Dimes for two decades so that we can give a fighting chance to every baby." said Julie Laird, March of Dimes East Region Vice President. "They are a national leader among our corporate teams, and with their support, Publix is helping the March of Dimes raise awareness of the urgent crisis of premature birth, which effects 1 in 10 babies in the United States."
Since Publix joined the March of Dimes in 1995, there has been many great successes, including:
In the 1990s, March of Dimes launched a National Folic Acid Campaign to prevent serious birth defects of the brain and spine known as neural tube defects. In 1998, the Food and Drug Administration mandated folic acid fortification of our nation's grain foods. Within a few short years, our country was able reduce the number of these birth defects by 20 to 30 percent.
In 2003, after more than thirty years of increasing rates of premature birth in the United States, the March of Dimes launches its Prematurity Campaign to confront this alarming trend.
After years of March of Dimes advocacy, in 2008, all states begin to require screening of all newborns for 21 or more serious but treatable conditions immediately after birth.
In 2013, the U.S. premature birth rate drops to a 15-year low, saving thousands of babies from death or disability and billions in health care costs.
And in 2015, March of Dimes opens its fifth Prematurity Research Center in Chicago, part of a network of centers pioneering a "team science" approach that brings together scientists from a wide array of fields to find the unknown causes of preterm birth.
March for Babies is the March of Dimes largest fundraiser and America's favorite walking event. Money raised in March for Babies supports the March of Dimes mission for stronger, healthier babies and funds important research and community programs.
Since 1970, the event has raised an incredible $2.3 billion to benefit all babies, and takes place in nearly 700 communities across the United States.
About Publix
Founded in 1930, Publix Super Markets is the largest and fastest-growing employee-owned supermarket chain in the United States. Publix and our associates excel in community involvement, volunteerism and a commitment to our market areas and beyond. Publix's commitment to diversity has contributed to their success in being a great place to work and shop.
About the March of Dimes
The March of Dimes is the leading nonprofit organization for pregnancy and baby health. For more than 75 years, moms and babies have benefited from March of Dimes research, education, vaccines, and breakthroughs. For the latest resources and information, visit marchofdimes.org or nacersano.org
March for Babies is sponsored nationally by the March of Dimes number one corporate supporter Kmart, and top sponsors Famous Footwear, Macy's, Cigna, United Airlines, and Mission Pharmacal.