UT Athletics Department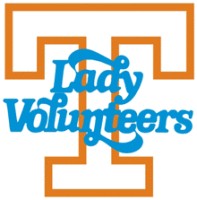 Knoxville, TN – No. 8/8 Tennessee fell to Virginia Tech, 57-43, on Sunday afternoon in the final contest of an eight-game homestand to open the season.
The Hokies (7-1) held the Lady Vols to a season-low 43 points on just 31 percent shooting. The big difference came from behind the arc as Virginia Tech finished 9-19 from 3-point range while UT was held to a season-worst 1-19 from long range.
Virginia Tech guard Vanessa Panousis led all scorers with 21 points including 5-8 shooting from beyond the arc.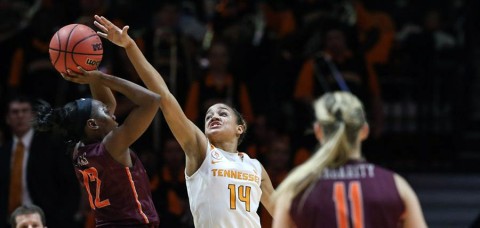 The Lady Vols led 25-22 at the break in what was a low-scoring opening 20 minutes. 
Diamond DeShields
 and 
Mercedes Russell
 paced the offense, accounting for 23 of the team's 25 first-half points. DeShields led all scorers at halftime with 15 points, extending her double-digit scoring streak to five straight games while Russell had eight points and nine rebounds.
The Big Orange led by as many as nine points in the first half in addition to holding the Hokies to just 22 points. The Lady Vols also forced 11 turnovers and recorded two blocks in first two quarters.
Tennessee (6-2) led by one entering the final quarter of play but was outscored 21-6 in the fourth as the Hokies snapped UT's 44-game home unbeaten streak against unranked non-conference opponents.
"We weren't very good. We are not a very good basketball team right now. We just have to get better," stated Tennessee Lady Vols head coach Holly Warlick.
Russell was a bright spot on both ends of the floor for the Lady Vols, scoring 14 points while grabbing a career-high 15 rebounds on the afternoon.
The Lady Vols outscored the Hokies, 24-16, in the paint. It was the sixth time in eight games this season that UT has outscored its opponent down low.
Mercedes Russell was dominant on the boards, pulling down a career-best 15 rebounds on the afternoon on top of scoring 14 points. Russell recorded her fourth double-double of the year. It was the ninth double-double recorded by a Lady Vol in the first eight games of the season.
On if missed shots affected play, Warlick said, "It shouldn't. I thought in the first quarter we played hard on the defensive end. We gave up 21 points in the fourth quarter. A great basketball team does not do that. We are not living, we are dying by the three-point shot. We went 1-for-19. Come on, use your basketball sense. Get a two-point shot. We have to do something. I thought Bashaara Graves and Mercedes Russell worked hard. When it got in crunch time, we missed some easy baskets and that affected us. When you need stops, you have to get stops. We didn't do that."
The Lady Vols had their 44-game home win streak against unranked non-conference opponents snapped. It was the first loss for Tennessee at home in the month of December since a 73-60 loss to No. 1/1 Stanford on December 22nd, 2012.
UT lost for the first time against Virginia Tech. The Lady Vols were 7-0 all-time against the Hokies entering the game.
Up Next
The Lady Vols hit the road for the first time this season as they travel to Kansas to take on Wichita State on December 11th at 8:05pm ET (7:05pm CT). The game will be steamed live on www.WatchESPN.com
The Shockers are coached by LVFL Jody Adams, who played at Tennessee from 1989-93. She is assisted by LVFL Bridgette Gordon (1985-89).
UT held on for a 54-51 victory over an upset-minded Wichita State team on December 16th of last year at Thompson-Boling Arena in the only prior meeting between the two programs.