Austin Peay Sports Information

Clarksville, TN –  Austin Peay State University women's tennis team fell to Chattanooga, 6-1, Saturday, at the Governors Tennis Center.
For the second consecutive match, the Govs (1-2) allowed the opposition to gain the first point, with the Mocs (1-4) earning the nod in doubles.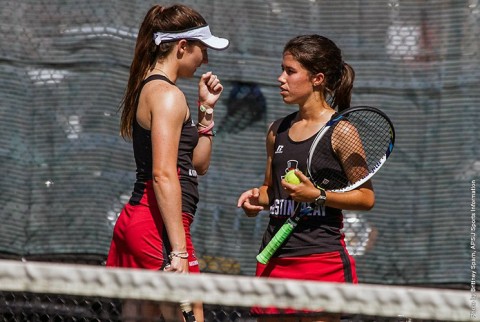 Freshman
Claudia Yanes Garcia
and sophomore
Brittney Covington
fought to pull out a 6-4 win over Chattanooga's Rachele Gazzola and Mckenzie Barco.
However, Chattanooga responded with victories in the No. 1 and No. 2 spots. Lidia Yanes Garcia and Helena Kuppig were overcome by Kayla Jones and Kelsey Coots, 6-2, followed by teammates Hannah Tatlock and Isabela Jovanovic falling to UTC's Samantha Caswell and Katie Polk, 6-0.
Unlike the previous match against Dayton, a rematch wasn't in APSU's cards, with the Mocs going 5-1 in singles play.
Freshman Claudia Yanes Garcia earned a point over Chattanooga senior Kelsey Coots, 6-1, 6-1, giving her a 3-0 singles record for the season.
Lidia Yanes Garcia fell short against Kayla Jones, 7-6(5), 6-4, Kuppig, striving for another singles win, fell to Samantha Caswell, 6-4, 6-1, while Tatlock, Covington and Jovanovic followed with defeats from Rachele Gazzola (6-1, 6-1), Ali Storie (6-2, 6-2), and Katie Polk (0-6, 0-6), respectively.
Austin Peay will face the Lipscomb Bisons at the Huston-Marsh-Griffith Tennis Center on Friday, February 19th, with first serve at 7:00pm
Box Score
Singles
No. 1 – Kayla Jones (UTC) def. Lidia Yanes Garcia (APSU), 7-6(5), 6-4
No. 2 – Claudia Yanes Garcia (APSU) def. Kelsey Coots (UTC), 6-1, 6-1
No. 3 – Samantha Caswell (UTC) def. Helena Kuppig (APSU), 6-4, 6-1
No. 4 – Rachele Gazzola (UTC) def. Hannah Tatlock (APSU), 6-1, 6-1
No. 5 – Ali Storie (UTC) def. Brittney Covington (APSU), 6-2, 6-2
No. 6 – Katie Polk (UTC) def. Isabela Jovanovic (APSU), 6-0, 6-0
Doubles
No. 1 – Jones/Coots (UTC) def. L. Yanes Garcia/Kuppig (APSU), 6-2
No. 2 – Caswell/Polk (UTC) def. Tatlock/ Jovanovic (APSU), 6-0
No. 3 – C. Yanes Garcia/Covington (APSU) def. Gazzola/ Barco (UTC), 6-4
Order of finish: Doubles (2,1,3); Singles (4,2,3,1,6,5)