Austin Peay Sports Information

Murray, KY – Austin Peay State University women's basketball team closed to within one point with a big second-half rally but could not complete the comeback in a 75-72 Ohio Valley Conference loss to Murray State, Saturday, at the CFSB Center.
For the second straight game, Austin Peay (7-17, 5-6 OVC) had trouble at both ends of the court in the opening quarter.
The Govs did not make a field goal in the first four minutes and allowed the Racers to make six of their first seven shots en route to a 14-0 lead.
The Govs would break through thanks to guard Falon Baker, who scored five straight points, getting APSU back to within nine points. But Austin Peay would not get closer the rest of the first half. Murray State pushed its lead to 20 points in the second quarter after Jashae Lee made back-to-back jumpers for a 41-21 lead at the 4:05 mark.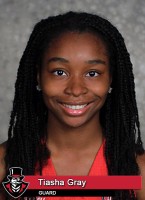 Murray State (8-14, 4-7 OVC) would end the first half making 52.6 percent (20-of-38) of its shots. Austin Peay shot 44 percent in the opening half, but saw 10 turnovers hamper the offense. The Govs would trail by 18 points, 48-30, at halftime.
Austin Peay guard Tiasha Gray started the second half – her first action after serving a one-half suspension – but her appearance didn't prove immediately beneficial. Murray State scored the third quarter's first seven points, extending its lead to a game-high 25 points, 55-30, less than two minutes into the period.
The Govs found their stride at that point, finishing the third quarter with a 25-11 run. Austin Peay's defense was pivotal in the run, holding Murray State without a field goal for nearly four minutes and only one field goal in the final 5:16. Austin Peay scored on seven of its 10 possessions down the stretch and trailed by 11 points, 66-55, at the end of the third.
After the teams exchanged salvos to start the fourth quarter, Austin Peay made its biggest charge at the three minute mark. Forward Sydney Gooch scored on a drive down the middle of the lane to start the burst. Guard Shelby Olszewski then hit her first three pointer of the season followed by a pair of free throws by Gray to slash the deficit to one point, 72-71, with 1:46 left.
Murray State LeAsia Wright broke the Racers three minute scoring drought with a three pointer just before the shot clock expired with 1:23 left. Trailing by three points after a Gray free throw, Austin Peay had two chances to tie the game in the final 20 seconds but could not find the basket they needed before time expired.
Gray led Austin Peay with 18 points in 20 minutes of action, making 5-of-12 from the floor. Gooch added a season-best 14 points on 5-of-8 shooting with six rebounds.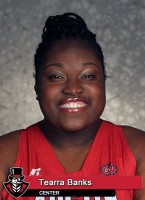 Baker finished with 11 points and senior Tearra Banks chipped in 10 points on 5-of-8 shooting.
Ke'Shunan James led Murray State with 18 points, making 6-of-14 from the floor. Abria Gulledge added 17 points and Wright had 14 points.
Austin Peay closes its four-game road trip when it meets Eastern Illinois in a 5:15pm, Wednesday,February 10th contest.
Box Score
Austin Peay (7-17/5-6 OVC) 72, Murray State (8-14/4-7 OVC) 75
| | 1 | 2 | 3 | 4 | Total |
| --- | --- | --- | --- | --- | --- |
| Austin Peay | 13 | 17 | 25 | 17 | 72 |
| Murray State | 24 | 24 | 18 | 9 | 75 |
Austin Peay 72
Player
FGM
-FGA
3FGM
-3FGA
FTM
-FTA
OFF
-DEF
TOT
PF
TP
A
TO
BLK
STL
MIN
23
Sydney Gooch
5-8
0-0
4-5
1-5
6
2
14
2
1
0
0
27
33
Falon Baker
3-8
3-7
2-4
0-5
5
2
11
0
2
0
0
29
24
Beth Rates
2-3
0-0
2-2
1-1
2
2
6
2
4
1
1
30
3
April Rivers
0-1
0-0
0-0
0-0
0
0
0
1
0
0
0
8
42
Symantha Norton
0-0
0-0
0-0
0-0
0
0
0
0
1
0
0
2
1
Tiasha Gray
5-12
1-5
7-8
0-6
6
1
18
2
3
0
2
20
25
Tearra Banks
5-8
0-0
0-0
1-0
1
2
10
1
2
0
0
12
12
Madison Rich
2-2
1-1
0-0
0-1
1
2
5
0
1
0
2
15
22
Keisha Gregory
1-3
0-0
1-1
0-0
0
3
3
3
0
1
1
27
13
Shelby Olszewski
1-2
1-1
0-0
0-1
1
0
3
1
0
0
0
18
11
Brianne Alexander
1-4
0-0
0-0
0-5
5
3
2
0
1
1
0
12
TM
TEAM
0-0
0-0
0-0
1-4
5
0
0
0
1
0
0
0
Totals
25-51
6-14
16-20
4-28
32
17
72
12
16
3
6
200
Murray State 75
Player
FGM
-FGA
3FGM
-3FGA
FTM
-FTA
OFF
-DEF
TOT
PF
TP
A
TO
BLK
STL
MIN
20
Ke'Shunan James
6-14
1-4
5-6
1-6
7
2
18
3
5
0
3
34
34
Abria Gulledge
7-17
3-8
0-0
1-1
2
0
17
1
2
1
0
33
23
LeAsia Wright
5-12
3-9
1-2
1-0
1
4
14
5
1
0
1
33
30
Kyra Gulledge
4-8
0-0
1-1
4-7
11
1
9
5
1
2
1
31
5
Jasmine Borders
4-9
1-6
0-0
1-1
2
3
9
2
2
0
1
27
42
Jashae Lee
2-4
0-0
0-0
4-1
5
3
4
1
0
0
0
16
1
Ajee Smith
1-4
0-2
0-0
1-0
1
3
2
3
1
0
0
14
31
Bianca Babic
0-2
0-2
2-2
0-2
2
3
2
0
0
0
1
12
TM
TEAM
0-0
0-0
0-0
1-7
8
0
0
0
0
0
0
0
Totals
29-70
8-31
9-11
14-25
39
19
75
20
12
3
7
200