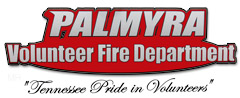 Clarksville, TN – On Saturday, March 19th, 2016 the Palmyra Volunteer Fire Department will hold a celebration for their 20th Anniversary.
Come out and help them celebrate 20 years of service to the Palmyra, Sailors Rest, Cumberland Heights and Shiloh communities.

It will be a day of fun activities for the family.
You will get to meet and know firefighters and first responders that serve the community you live and work in.
There will be fun events for all ages along with food and refreshments.
The Palmyra Volunteer Fire Department is located at 3283 Harris Circle, Palmyra, TN.