APSU Sports Information

Clarksville, TN – APSU men's tennis team wrapped up a successful Easter weekend, Saturday, earning its second win of 2016 with a 4-3 decision over Eastern Illinois at the Foy Fitness Center Courts.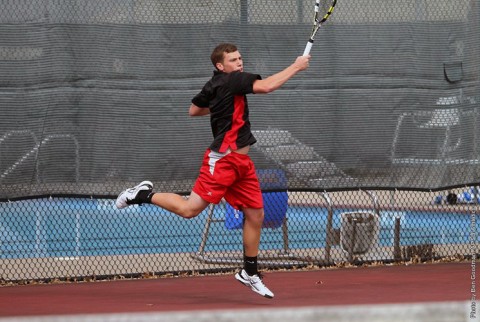 The Austin Peay State University Governors (2-7, 2-2 OVC) leveled their conference record with a second-straight win, but five tiebreakers in singles play were needed.
Austin Peay got off to another positive start beginning with doubles, earning the key point. No. 2s Aleh Drobysh and Almantas Ozelis swept Ryan Henderson and Jared Woodson, 6-0, while No. 3s Chad Woodham and Alex Kartsonis earned the nod over Grant and Trent Reiman, 6-3. Aaron Jumonville and Manuel Montenegro vs. Robert Skolik and Rui Silva was unfinished.
Eastern Illinois posted two wins at the top of the singles order – Henderson defeated Jumonville, 6-3, 5-7, 7-6(2), Skolik upset Ozelis, 6-4, 7-6(4) – but APSU's strength was from the No. 3-5 positions. Montenegro outlasted Grant Reiman, 6-7(3), 6-3, 6-2, Drobysh edged Silva, 6-4, 7-6(5), and Woodham finished strong against Trent Reiman, 1-6, 7-6(5), 6-0.
At No. 6, EIU's Jevtic defeated James Mitchell, 7-5, 6-2.
The Govs will break from Ohio Valley Conference play, but two nonconference foes await on the schedule. APSU travels to Lindsey Wilson, March 30th, before a challenge versus Tennessee, April 3rd.
Box Score
Singles
1. HENDERSON, Ryan (EIUM) def. Jumonville, Aaron (APSU) 3-6, 7-5, 7-6 (10-2)
2. SKOLIK, Robert (EIUM) def. Ozelis, Almantas (APSU) 6-4, 7-6 (10-4)
3. Montenegro, Manuel (APSU) def. REIMAN, Grant (EIUM) 6-7 (3-10), 6-3, 6-2
4. Drobysh, Aleh (APSU) def. SILVA, Rui (EIUM) 6-4, 7-6 (10-5)
5. Woodham, Chad (APSU) def. REIMAN, Trent (EIUM) 1-6, 7-6 (10-5), 6-0
6. JEVTIC, Ognjen (EIUM) def. Mitchell, James (APSU) 7-5, 6-2
Doubles
1. Jumonville, Aaron/Montenegro, Manuel (APSU) vs. SKOLIK, Robert/SILVA, Rui (EIUM) 5-2, unfinished
2. Ozelis, Almantas/Drobysh, Aleh (APSU) def. HENDERSON, Ryan/WOODSON, Jared (EIUM) 6-0
3. Woodham, Chad/Kartsonis, Alex (APSU) def. REIMAN, Grant/REIMAN, Trent (EIUM) 6-3