APSU Sports Information

Richmond, KY – Austin Peay State University's softball team had its two biggest scoring innings of the day in its last at bat, Saturday, at Gertrude Hood Field, but both rallies came up short against the Ohio Valley Conference co-leader Eastern Kentucky in 3-2 and 8-4 finals.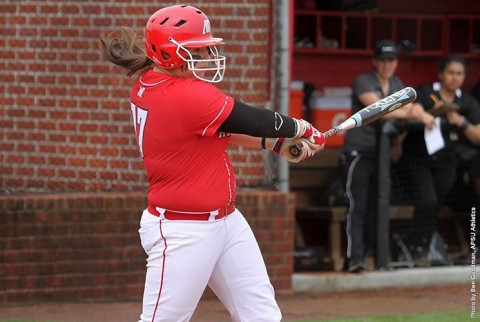 The Governor (5-19, 1-6 OVC) entered the seventh inning of Game 1 down 3-0, but
Kendall Vedder
got the inning going with a single and moved to second base on a passed ball.
Two outs later, pinch-runner Rikki Arkansas would score on a pinch-hit double by Autumn Hanners to make it 3-1. Chandler Groves followed with a single to drive in Erica Inagaki, who returned to run for Hanners, to make it 3-2, and then moved into scoring position herself as Kacy Acree singled.
That brought up APSU's leading RBI producer in Danielle Liermann with a chance to tie or put the Govs ahead. But Eastern Kentucky (22-6, 7-0 OVC) starter Hayley Flynn got Liermann to fly out to deep center field to seal the win for the Colonials.
Groves and Vedder led the Govs with two hits each in the first game
Natalie Ayala (0-4) took the complete-game loss, holding EKU to the three runs on five hits, with Flynn (14-3) getting the win.
Game 2 got off to a rough start for Austin Peay, with the Govs falling behind 4-0 after the first two innings. The Governors cut the deficit to 4-2 by the end of the fifth on an RBI single by Liermann in the fourth inning and Sidney Hooper scoring in the fifth inning on a throwing error by EKU.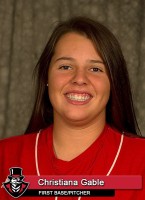 But The Colonials responded in the bottom of the fifth with four runs, highlighted by a three-run homer by Johnkyria Alston to make it an 8-2 game.
Austin Peay rallied in the seventh by scoring two runs on a homer to center field by Hanners, but that would be as close as they would get in the 8-4 final.
Acree, Liermann and Christiana Gable would lead APSU with two hits each, with Acree extending her hit streak to 12 – the second longest such streak by an Austin Peay player since 2000, trailing only Lauren de Castro who put together a 13-game hit streak in the 2012 season.
Austin Peay returns to action Thursday, 4:00pm, with a non-conference game at Middle Tennessee.