APSU Sports Information

Clarksville, TN – Senior outfielder Kyle Blackburn had four hits and four RBI to pace an Austin Peay State University baseball team that pounded out 20 hits in a 16-11 Ohio Valley Conference victory against Murray State, Saturday afternoon at Raymond C. Hand Park.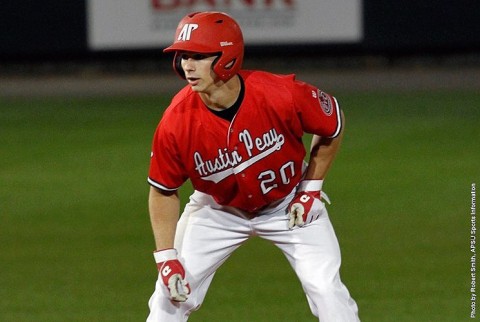 The Govs swept the three-game OVC set and claimed sole possession of third place in the OVC race after three weekends.
Austin Peay (13-9, 6-3 OVC) opened the game with a flourish when center fielder Patrick Massoni drove a solo home run down the left field line in the first inning – his first round-tripper this season. It was the opening blast in what turned into a five-run frame.
Designated hitter Alex Robles added a RBI double, Blackburn added a two-run double and catcher Alex Sala hit a sacrifice fly to cap the frame.
The Govs kept adding to their lead over the next three innings. First baseman Dre Gleason hit a two-run home run in the second, pushing the lead to 7-0. Shortstop Clayton Smithson extended the lead with his RBI single in the third.
Murray State (11-15, 3-6 OVC) used the long ball to break onto the scoreboard in the fourth. Designated hitter Tyler Lawrence hit a solo shot and second baseman Caleb Hicks added a two-run home run to cut the APSU lead to 8-3.
Austin Peay responded in its half of the third, scoring three runs. Right fielder Chase Hamilton's two-run single was followed by Blackburn's RBI single and APSU was back in front by eight runs, 11-3, and never looked back.
The early offensive outburst helped Austin Peay starting pitcher Michael Costanzo (4-1) record his fourth win in four home starts this season. After the rough fourth inning, he would see an APSU error lead to two more runs in the fifth. He would then toss a scoreless sixth to end his outing allowing five runs (three earned) on six hits.
Blackburn set a career high with four hits and tied his week-old career high with four RBI. Smithson chipped in a 3-for-5, four RBI outing while Massoni went 4-for-5. That trio led an Austin Peay offense that posted a season-high 20 hits and tied its season high with 16 runs. Six hitters had a multi-hit outing and nine hitters finished with a hit.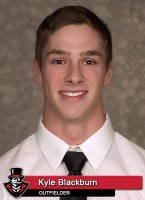 Murray State used six relief pitchers in the contest following starter Ryan Dills (1-2), who was lifted in the first inning after allowing five runs on four hits and two walks and was tagged for the loss.
First baseman Ramsey Scott led the Murray State offense with a 4-for-5 outing. Catcher Kipp Moore went 3-for-4 and hit a grand slam as part of a six-run ninth inning that tightened the score.
The Racers finished with 11 runs on 14 hits, eight different hitters recording a hit.
Box Score
Murray State (11-15 / 3-6) -vs- Austin Peay (13-9 / 6-3)
| | 1 | 2 | 3 | 4 | 5 | 6 | 7 | 8 | 9 | | | R | H | E |
| --- | --- | --- | --- | --- | --- | --- | --- | --- | --- | --- | --- | --- | --- |
| Murray State | 0 | 0 | 0 | 3 | 2 | 0 | 0 | 0 | 6 | | 11 | 14 | 0 |
| Austin Peay | 5 | 2 | 1 | 3 | 0 | 2 | 0 | 3 | X | | 16 | 20 | 1 |
W: COSTANZO, Michael (4-1) L: DILLS, Ryan (1-2)
Murray State 11
Position
Player
AB
R
H
RBI
BB
SO
LOB
ss
ROBINSON, Jaron
4
1
1
0
0
2
1
ph
HRANEC, Jack
1
1
1
0
0
0
0
lf
BAUER, Adam
5
2
1
0
0
0
0
dh
LAWRENCE, Tyler
5
2
2
2
0
0
0
1b
SCOTT, Ramsey
5
2
4
1
0
0
0
2b
HICKS, Caleb
3
2
1
3
1
2
1
c
MOORE, Kipp
4
1
3
4
1
1
0
cf
GILBERT, Cody
5
0
1
0
0
2
0
3b
MOORE, Nick
3
0
0
0
1
0
4
ph
DUDAS, Matthew
1
0
0
0
0
1
0
rf
THOMPSON, Reed
3
0
0
0
0
0
0
ph
HALL, Cody
2
0
0
0
0
1
1
p
DILLS, Ryan
0
0
0
0
0
0
0
p
MAERZ, Cody
0
0
0
0
0
0
0
p
WATSON, Derrik
0
0
0
0
0
0
0
p
ANDERSON, Tyler
0
0
0
0
0
0
0
p
DUBSKY, Austin
0
0
0
0
0
0
0
p
CLYNES, Blake
0
0
0
0
0
0
0
p
ARBEITER, Caleb
0
0
0
0
0
0
0
Totals
41
11
14
10
3
9
7
Austin Peay 16
Position
Player
AB
R
H
RBI
BB
SO
LOB
2b
COPELAND, Garrett
5
0
0
0
1
2
2
cf
MASSONI, Patrick
5
2
4
1
0
0
0
pr/cf
WILLIS, Imani
1
0
1
0
0
0
0
3b
SMITH, Ridge
5
3
2
0
1
0
0
1b
GLEASON, Dre
3
2
1
2
2
1
1
ph/1b
NEWBERG, Brett
1
0
0
0
0
0
0
dh
ROBLES, Alex
3
3
2
1
1
0
0
ph/dh
PURCELL, Wesley
2
0
0
0
0
2
2
rf
HAMILTON, Chase
4
2
2
2
1
0
2
lf
BLACKBURN, Kyle
4
2
4
4
0
0
0
c
SALA, Alex
3
0
0
1
0
0
0
ph/c
MITCHELL, Caleb
1
1
1
0
0
0
0
ss
SMITHSON, Clayton
5
1
3
4
0
0
3
p
COSTANZO, Michael
0
0
0
0
0
0
0
p
SPARKS, John
0
0
0
0
0
0
0
p
BURROW, CJ
0
0
0
0
0
0
0
p
HARMON, Jordan
0
0
0
0
0
0
0
Totals
42
16
20
15
6
5
10
Murray State
Player
IP
H
R
ER
BB
SO
WP
BK
HBP
IBB
AB
BF
FO
GO
NP
Dills, Ryan
(L, 1-2)
0.1
4
5
5
2
0
0
0
0
0
5
7
0
1
30
Maerz, Cody
2.2
4
3
3
0
0
0
0
0
0
11
12
5
3
55
Watson, Derrik
0.1
1
3
3
2
1
0
0
0
0
2
4
0
0
22
Anderson Tyler
2.2
6
2
2
0
2
0
0
0
0
13
14
6
0
36
Dubsky, Austin
1.0
1
0
0
1
1
0
0
0
0
4
5
1
1
24
Clynes, Blake
0.1
4
3
3
1
0
1
0
0
0
5
6
1
0
25
Arbeiter, Caleb
0.2
0
0
0
0
1
0
0
0
0
2
2
1
0
9
Totals
20
16
16
6
5
1
0
0
0
42
50
14
5
201
Austin Peay
Player
IP
H
R
ER
BB
SO
WP
BK
HBP
IBB
AB
BF
FO
GO
NP
Costanzo, Michael
(W, 4-1)
6.0
6
5
3
2
6
0
0
0
0
24
26
7
4
93
Sparks, John
2.0
2
0
0
1
1
0
0
0
0
8
9
2
3
30
Burrow, CJ
0.1
4
5
5
0
1
0
0
1
0
5
6
0
0
22
Harmon, Jordan
0.2
2
1
1
0
1
1
0
0
0
4
4
1
0
18
Totals
14
11
9
3
9
1
0
1
0
41
45
10
7
163