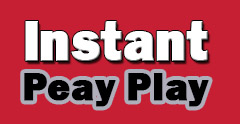 Clarksville, TN – When Will Healy was hired as the new football coach at Austin Peay State University back in December he said he wanted to win and win sooner than later.
Now three weeks into his first spring practice at the helm, and two scrimmages in the books, it looks like the Governors are starting to get the up-tempo style of offense.
Running around 90-to-100 plays in both scrimmages the Govs playmakers have shown they can handle the quicker paced offensive style, putting up solid numbers – both in the running game, that isn't a surprise – but also in the passing game that has been as best inconsistent the past several years.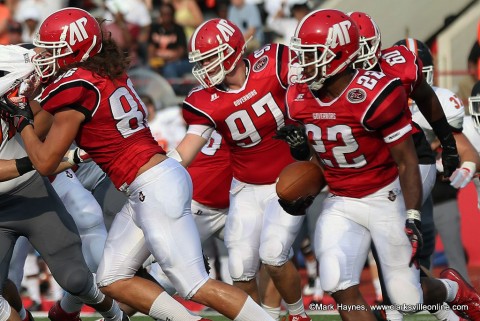 Austin Peay's running backs have averaged just over 4.8 yards per rush during the scrimmages, with the jet option working well so far this spring, with Healy wanting to spread the offense out more.
Leading that attack has been red-shirt sophomore Kendall Morris, who has rambled for 129 yards in just 16 carries, while senior Julian Franklin and Marvin Franklin have also had solid performances so far.
But it's just not running backs that have rushed the ball well, with red-shirt senior Timarious Mitchell and junior Mickey Macius also rushing the ball well.
The success running the ball, spreading out the offense has also helped the passing game with Macius having a solid numbers in the first scrimmage (9-16, 71 yards, 2 TDs) and Mitchell (9-11, 76 yards, 1 TD) in the second.
But more importantly have done a much better job of not turning the ball over, as the battle for the starting quarterback job will be one of interest not only through spring practice and into the fall.
If the Govs can continue to improve its passing game it will only help their stable of receivers, who have exhibited the ability to get the ball into the end zone.
So far in the two scrimmages senior Rashaan Coleman has been the favorite target of Governor quarterbacks with touchdowns in each scrimmage.
On the defensive side of the ball, the Govs have been playing a little short-handed as far as depth goes – especially on the defensive line – with younger players getting an early chance to show what they can do.
In the opening scrimmage, sophomore AJ Williams picked off a pass and returned it for a touchdown and sophomore Shaun Whittinghill recovering a fumble to highlight several big plays on defense.
In the second scrimmage the defense wasn't able to force a turnover, but was able to cut a yard per carry off each rush – with several stops on third- and fourth-and short situations.
The Governors will have three practices this week and two more next week before the Austin Peay Red-and-White Spring Game at Governors Stadium on April 23rd, starting at 4:00pm.