APSU Sports Information
Clarksville, TN – Right fielder Chase Hamilton homered for the third consecutive game and left fielder Logan Gray supplied two RBI as Austin Peay State University's baseball team held on for a 4-3 Ohio Valley Conference victory against Eastern Kentucky, Saturday at Raymond C. Hand Park.
Austin Peay (24-13, 14-6 OVC) saw its offense limited to a season-low five hits, but it was highly efficient with three of those hits supplying runs in the victory.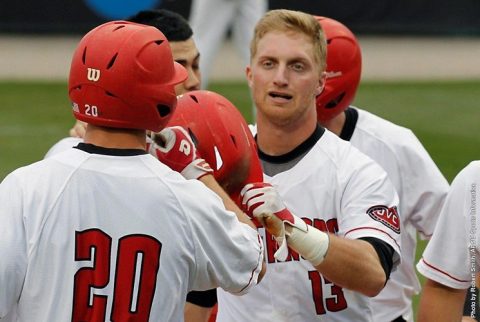 The Governors first hit came off Hamilton's bat as he drove a ball over the wall in the deepest part of center field to tie the game, 1-1.
The Govs pushed its lead further in the third inning after catcher Alex Sala led off with a double. Four batters later, Gray brought in two runs with a single through the left side. Hamilton chipped in his second RBI of the contest with a single to right field and the Govs lead hit 4-1.
Eastern Kentucky (17-23, 7-10 OVC) had plenty of scoring chances in the first five innings, but Austin Peay starter Michael Costanzo thwarted most of the opportunities. The Colonels scored just one run in the first inning after posting three hits in the frame.
Costanzo would work around trouble in the second, seeing a leadoff walk cut down at home plate. He would allow a single in the third and fourth frames, but the runner didn't reach scoring position.
The Colonels finally scratched out a pair of runs against the Govs left hander in the fifth. EKU's rally started with center fielder Shea Sullivan's one-out double. After a walk, designated hitter Mandy Alvarez drove in a run with a single. Designated hitter Kyle Nowlin followed with a sacrifice fly for a second run, but Costanzo got a much-needed strike out to end the frame with the Govs ahead 4-3.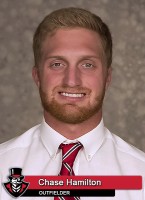 Austin Peay's bullpen took over after the fifth and the duo of Zach Neff and Jared Carkuff provided four shutout frames. Neff followed Costanzo and went three innings, striking out four while allowing only one hit. Carkuff came on in the ninth and allowed a single that was wiped out on a game-ending line-drive double play.
Costanzo (6-2) remained perfect at Raymond C. Hand Park, improving to 6-0 in six home starts after holding the Colonels to three runs on eight hits over five innings.
Hamilton finished the day 2-for-3 with two RBI as he hit his fourth home run in the Govs last five games. Gray also stayed hot at the plate with a 1-for-3, two RBI performance.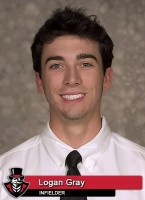 Eastern Kentucky starter Alex Hamilton (3-5) held Austin Peay to just four hits and struck out seven, but was tagged for the loss after his six-inning outing.
Shortstop Cole Warrenfeltz went 3-for-5 to pace the Colonels 10-hit offensive outing. Blair added a 2-for-3, one RBI effort.
Austin Peay, which clinched its fifth consecutive OVC series victory with Saturday's win, and Eastern Kentucky conclude their three-game league series with a 1:00pm, Sunday contest.
Box Score
Eastern Kentucky (17-23 / 7-10) -vs- Austin Peay (24-13 / 14-6)
| | 1 | 2 | 3 | 4 | 5 | 6 | 7 | 8 | 9 | | | R | H | E |
| --- | --- | --- | --- | --- | --- | --- | --- | --- | --- | --- | --- | --- | --- |
| Eastern Kentucky | 1 | 0 | 0 | 0 | 2 | 0 | 0 | 0 | 0 | | 3 | 10 | 1 |
| Austin Peay | 0 | 1 | 3 | 0 | 0 | 0 | 0 | 0 | X | | 4 | 5 | 0 |
W: COSTANZO, Michael (6-2) L: HAMILTON, Alex (3-5) S: CARKUFF, Jared (3)
Eastern Kentucky 3
Position
Player
AB
R
H
RBI
BB
SO
LOB
ss
WARRENFELTZ, Cole
5
1
3
0
0
0
0
cf
SULLIVAN, Shea
4
1
1
0
0
0
4
3b
ALVAREZ, Mandy
3
1
1
1
1
0
0
dh
NOWLIN, Kyle
4
0
1
1
0
2
0
rf
BLAIR, Taylor
3
0
2
1
0
0
0
1b
FISHER, Ben
4
0
0
0
0
1
4
c
OLIVE, Matt
3
0
0
0
1
0
0
c
STARNES, Logan
0
0
0
0
0
0
0
lf
GRAHAM, Dakota
4
0
1
0
0
3
0
2b
HOLDERBACH, Alex
4
0
1
0
0
1
0
p
HAMILTON, Alex
0
0
0
0
0
0
0
p
JOHNSON, Caleb
0
0
0
0
0
0
0
Totals
34
3
10
3
2
7
8
Austin Peay 4
Position
Player
AB
R
H
RBI
BB
SO
LOB
2b
COPELAND, Garrett
3
1
1
0
1
0
0
cf
MASSONI, Patrick
2
0
0
0
0
0
0
cf
WILLIS, Imani
0
0
0
0
0
0
0
lf
GRAY, Logan
3
1
1
2
1
2
0
1b
ROBLES, Alex
3
0
0
0
0
0
0
rf
HAMILTON, Chase
3
1
2
2
0
0
0
dh
PURCELL, Wesley
3
0
0
0
0
3
1
3b
SMITH, Ridge
3
0
0
0
0
0
0
c
SALA, Alex
3
1
1
0
0
0
0
ss
SMITHSON, Clayton
3
0
0
0
0
2
0
p
COSTANZO, Michael
0
0
0
0
0
0
0
p
NEFF, Zach
0
0
0
0
0
0
0
p
CARKUFF, Jared
0
0
0
0
0
0
0
Totals
26
4
5
4
2
7
1
 Eastern Kentucky
Player
IP
H
R
ER
BB
SO
WP
BK
HBP
IBB
AB
BF
FO
GO
NP
Hamilton Alex
(L, 3-5)
6.0
4
4
4
1
7
0
0
1
0
22
24
5
5
112
Johnson Caleb
2.0
1
0
0
1
0
0
0
0
1
4
6
2
2
22
Totals
5
4
4
2
7
0
0
1
1
26
30
7
7
134
Austin Peay
Player
IP
H
R
ER
BB
SO
WP
BK
HBP
IBB
AB
BF
FO
GO
NP
Costanzo Michael
(W, 6-2)
5.0
8
3
3
2
3
0
0
0
0
20
24
5
6
78
Neff, Zach
3.0
1
0
0
0
4
1
0
0
0
11
11
2
4
45
Carkuff Jared
(S, 3)
1.0
1
0
0
0
0
0
0
0
0
3
3
2
0
10
Totals
10
3
3
2
7
1
0
0
0
34
38
9
10
133