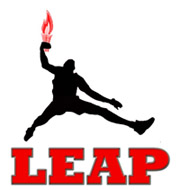 Clarksville, TN – Thanks to Ms. Regina Dillard, a single mom learned about the great services that the LEAP Organization offered to youth while working at the Department of Children's Services for referring her daughter Danielle to the program.
Danielle, while not an at-risk youth, was eager to participate. She learned about the goals of LEAP's youth enrichment programs. Danielle proudly mentions that LEAP changed her life in many different ways and helped her to develop the self-confidence that she needed to be successful.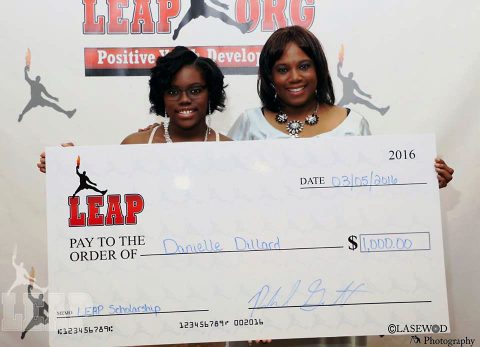 Enrolled in LEAP's sophomore class in 2009, Danielle shares that she, "Walked into the program seven years ago very shy and unsure of myself. I struggled with math and LEAP's tutors helped me to understand those complex algorithms that challenged me. LEAP's Mentors were equally encouraging and supportive."
She has remained drug and tobacco free for 7 years, improved her grades from C's and D's A's and B's, and upon completing LEAP's Career Readiness Program, obtained employment at Citi Trends. Following her West Creek High School graduation, May 28th, Danielle will attend Tennessee State University.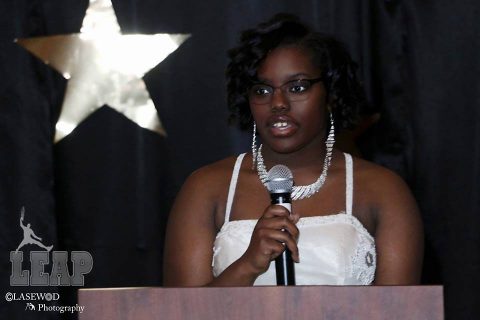 LEAP provided the tools and Danielle put in the hard work. Danielle's accolades included induction into the National Honors Society and she is the recipient of the 2016 Rotary Youth Leadership Award and graduate of Youth Leadership Clarksville. Although Danielle served as President of LEAP's Youth Leadership Council, she never could have imagined that she would be capable to speak before the Mayor and County Commissioners.
Danielle further contends that she is grateful for Executive Director, Reason Reason Garrett's belief in her desire to join the military and pursue a career as a JAG attorney, that he arranged an intern for her at Kennedy Law Firm.
Danielle received a $1000 Joe Shakeenab Scholarship Award of Excellence at the Dining with the Stars Scholarship Gala and she shared this poem:
What LEAP Means To Me…
L- is for Leadership most would say it means to lead but it's taught me to take risks becoming all that I can be.
E- is for Enlightenment google defines it as being bright, In Leap our mentors teach us to carry a torch, and become a burning light.
A- is for Academic Achievement, the words mean to excel, much more than getting good grades, it means retaining knowledge as well.
P- is for Perseverance, it means never stop the fight, I'm not referring to violence but personal goals, give them all your might.
You're probably thinking well that's about, but if you are sadly you're wrong, there's three letters left until this acronym is done.
O- is for Outreach, give back to those in need, don't let success consume you or you're suffering from greed.
R- is for Responsibility, own up for what you do, if you're in charge blame no one else, otherwise you've failed too.
G- is the last letter it simply stands for Growth, Although you've accomplished tasks, know there's more work left to do because at the end of the day, we all can Improve!!
I want to say thank you to people and companies that donate to LEAP. It's a great organization that touches a lot of lives."
About LEAP
LEAP implements sustainable programs that equip and empower youth and entrepreneurs with the knowledge and resources they need to improve their decision making to lead healthy, successful outcomes.