APSU Sports Information

Jacksonville, FL – It was unfortunately not the ending Savannah Amato imagined for her final meet of the 2016 outdoor season, but that doesn't diminish what she was able to accomplish in her first season at Austin Peay State University.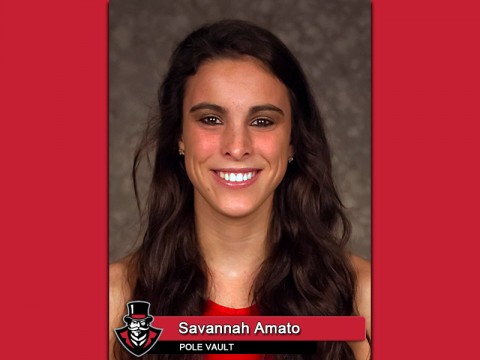 Amato was unable to record a height in three pole vault attempts at 3.80m (12′ 5.5″), bringing her freshman season to an end at the 2016 NCAA East Preliminary.
"(The starting height) is higher than what she normally starts at and it's a whole different atmosphere," said head coach Doug Molnar. "The biggest take away will be her experience; not clearing the height takes nothing away from the tremendous experience she had this year. She improved leaps and bounds as an athlete; if you can be here your freshman year, you'll be far ahead of everyone down the road."
Amato has history on her side for future appearances; the last three APSU freshman student-athletes to make an NCAA Preliminary appearance—Molly Bartkiewicz (2007), Breigh Jones (2013) and Kaylnn Pitts (2014)—each made at least one return journey to the regional round during their Austin Peay careers.