Clarksville, TN – The music that defined a generation, including such iconic songs from the 1950s and '60s as "Hound Dog," "Stand by Me," "Yakety Yak," "Jailhouse Rock," "Spanish Harlem," "On Broadway," "Love Potion #9" and "Fools Fall in Love." as penned by songwriters Jerry Leiber and Mike Stoller.
This summer, the work of that legendary team will be celebrated in the Roxy Regional Theatre's production of "Smokey Joe's Cafe", running July 22nd through August 20th.
The longest running musical revue in Broadway history, this Tony Award-nominated and Grammy Award-winning production pays tribute to over three dozen of the greatest songs ever recorded during the golden age of American culture.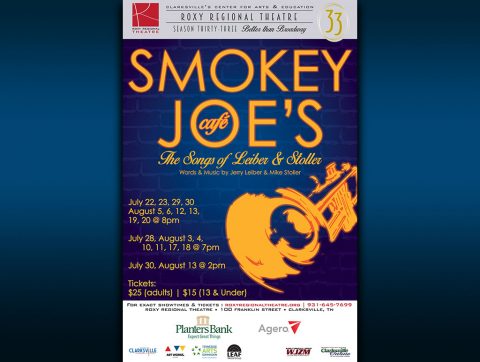 Directed by Mairzy Yost-Rushton and choreographed by Ryan Bowie, the Roxy's production of "Smokey Joe's Cafe": The Songs of Leiber and Stoller features newcomers Shuga Henry, Kendall Adaire Payne, Darrell Purcell and Samantha Stoltzfus alongside Roxy veterans Ryan Bowie, Keith Patrick McCoy (last seen as Judge Pitkin in On the Town), Sarita Amani Nash (Extraordinary Girl in Green Day's American Idiot), and local attorney Stacy Turner (most recently appearing on the Roxy stage as Hildy in On the Town).
The classic themes of love won, lost and imagined take center stage by way of rhythm and blues, rock 'n' roll and pop standards performed by Matthew McNeill on piano, Thad Wallus on guitar, John Waddle on bass and Bernard Lott on drums.
"During the two-hour evening, we share laughter, discoveries, regrets and love," says Yost-Rushton. "It is a nostalgic, sexy and irresistibly fun celebration of the music of Leiber and Stoller."
"Smokey Joe's Cafe" runs July 22nd through August 20th, playing Wednesdays and Thursdays at 7:00pm and Fridays and Saturdays at 8:00pm, with 2:00pm matinees on Saturday, July 30th and August 13th. There is no performance on Wednesday, July 27th.
Friday, July 22nd, is the theatre's traditional pay-what-you-can preview. All tickets not pre-sold at the regular ticket price will go on sale at 7:30pm that evening for a $5.00 minimum donation.
Tickets are $25.00 (adults) and $15.00 (ages 13 and under) and may be purchased online at www.roxyregionaltheatre.org, by phone at 931.645.7699, or at the theatre during regular box office hours (9:00am to 2:00pm, Monday through Friday, and one hour prior to curtain).
Active duty military, APSU students and CitySaver coupon holders can receive two tickets for the price of one to Wednesday and Thursday performances.
"Smokey Joe's Cafe" is made possible in part through the generous support of Planters Bank and Agero. Additional funding support has been provided by Jill T. Crow, Dr. Ernest & Joan DeWald, James Holleman, and John & Ann Waddle.
The Roxy Regional Theatre is located at 100 Franklin Street in Clarksville, TN.