Clarksville, TN – "Smokey Joe's Cafe" at the Roxy Regional Theatre is powerful, stunning and a roaring good time. The Roxy has put together a great cast of outstanding vocalists to pay tribute to early rock songwriting superstars Jerry Leiber and Mike Stoller.
The longest running musical revue in Broadway history, this Tony Award-nominated and Grammy Award-winning production pays tribute to over three dozen of the greatest songs ever recorded during the golden age of American culture.
Some of the songs featured are "Young Blood", "Fools Fall in Love", "Poison Ivy",  "Hound Dog", "Love Potion #9", "Charlie Brown" as well as 32 other songs from the 1950's and 60's.
The casts showed off their spectacular vocals with brilliant harmonies, sultry sounds and powerful numbers that shook the roof. Attention to detail was there for every song, from the choreographed moves to their facial expressions. This is one memorable performance.
"I thought it was fabulous. I think they had a great ensemble. I'm of an age where I know those songs and I had a great time listening to them. It's really a good show and I recommend it," said Ellen Kanervo, Executive Director of the Clarksville-Montgomery County Arts & Heritage Development Council.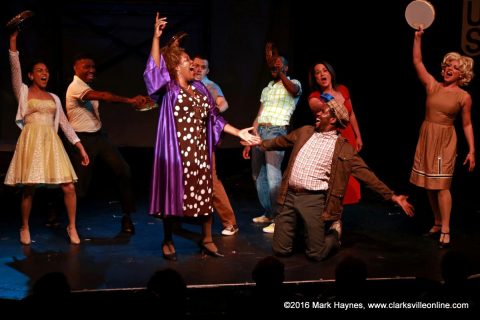 "High energy, great great performance from the entire case, well directed and something that everyone in Clarksville should come to see while they have the opportunity. Because the talent is there and it's just a beautiful reminisce of yesteryear, the 1950's and 60's are alive and well in Clarksville," stated Joe Filippo. "I thought the show was just wonderful."
"Smokey Joe's Cafe" is directed by Mairzy Yost-Rushton and choreographed by Ryan Bowie.
"During the two-hour evening, we share laughter, discoveries, regrets and love," says Yost-Rushton. "It is a nostalgic, sexy and irresistibly fun celebration of the music of Leiber and Stoller."
"Smokey Joe's Cafe" through August 20th, playing Wednesdays and Thursdays at 7:00pm and Fridays and Saturdays at 8:00pm, with 2:00pm matinees on Saturday, August 13th.
Tickets are $25.00 (adults) and $15.00 (ages 13 and under) and may be purchased online at www.roxyregionaltheatre.org, by phone at 931.645.7699, or at the theatre during regular box office hours (9:00am to 2:00pm, Monday through Friday, and one hour prior to curtain).
The Roxy Regional Theatre is located at 100 Franklin Street in Clarksville, TN.
Photo Gallery
The Cast
Ken ………………………….…….…………..…… KENDALL ADAIRE PAYNE
Brenda ………………………….………………..…… SARITA AMANI NASH
Victor ………………………….……….……………..…… DARRELL PURCELL
B.J. ………………………….………………………………..…… SHUGA HENRY
Michael ………………………………….…………………..…… RYAN BOWIE
Pattie ………………………….………………………….… STACY A. TURNER
Frederick ………………….…………………..…… KEITH PATRICK McCOY
DeLee ………………………..………………..…… SAMANTHA STOLTZFUS
The Band
Piano …………………..……….…………………..…… MATTHEW McNEILL
Guitar …………………….………………………………..…… THAD WALLUS
Bass ………………….……………………………………..…… JOHN WADDLE
Drums ………………………….……………….………..…… BERNARD LOTT