Clarksville, TN – Clarksville Police Detective Tanner Pew is trying to identify two suspects involved in an Armed Robbery and is requesting public assistance.
On September 5th, 2016 between 8:36pm and 8:41pm, two armed black males walked into the Dollar General located at 324 Madison Street. Money was taken from the safe, and they also collected everyone's cell phones.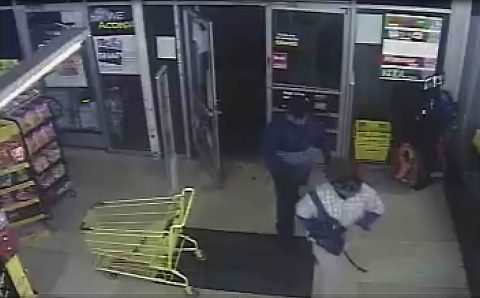 After collecting what they could, the two black males quickly exited the store and left in the direction of the Habitat for Humanity building on the corner of the shopping complex and got rid of the cell phones.
Descriptions
The first suspect was wearing a white plaid button up shirt, a black bandana partially covering his face, tan khaki pants, and a ball cap with sunglasses.
The second suspect was wearing a blue long-sleeve shirt with a white stripe across the stomach, black pants, a brown wig, and a black bandana partially covering his face.
Note
At this time, there is no evidence that indicates that the Robbery at the Dollar General on Madison Street and the Robbery at Papa Muphy's on Wilma Rudolph Boulevard (occurred on the same date at 9:15pm) are related. The original release for both incidents (sent in one release together) was sent on Monday September 5th, 2016 at 10:44pm.
Detective Pew included a still image of the suspects. If anyone can identify the suspects or has any information related to this incident, please call Detective Pew at 931.648.0656 Ext 5365, or call the CrimeStoppers TIPS Hotline at 931.645.TIPS (8477).
You can also go to the CrimeStoppers website at www.p3tips.com/591