Clarksville, TN – Clarksville Police Detective Andrew Hurst is trying to identify the suspect(s) involved in a felony Theft of Property incident and is requesting public assistance.
Between the dates and times of September 11th, 2016 at 3:00pm and September 12th, 2016 at 8:23am, the truck pictured in the attachment pulled up to a construction site and took thousands of dollars worth of equipment and materials and drove away.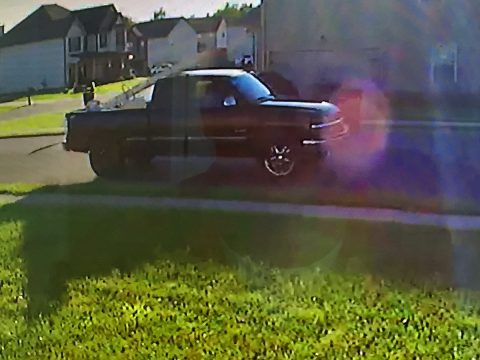 This theft occurred in the area of Tiny Town Road and Tobacco Road.
Detective Hurst included a still image of the suspect's vehicle (see photo above).
If anyone can identify the vehicle or has any information related to this incident, please call Detective Hurst at 931.648.0656 Ext 5263, or call the CrimeStoppers TIPS Hotline at 931.645.TIPS (8477). You can also go to the CrimeStoppers website at www.p3tips.com/591