APSU Sports Information
Murfreesboro, TN – Junior Kaitlyn Teeter had 15 kills in her first real return to action, leading Austin Peay State University's volleyball team to a come-from-behind five-set victory (22-25, 23-25, 25-16, 26-22, 15-8) against nonconference foe Middle Tennessee, Wednesday night, at Alumni Memorial Gym.
Teeter's 15 kills and .464 attack percentage were both her second best performances this season.
It was her first significant action since October 1st when she suffered an upper body injury at Eastern Kentucky.
Teeter got out to a quiet start and so did the Governors as they were swamped by a fast-starting Middle Tennessee squad. The Govs hit a respectable 28 kills and .236 attack percentage in the first two frames, but the Blue Raiders bolted out of the gate with 29 kills and a .312 attack percentage as they claimed the first two sets.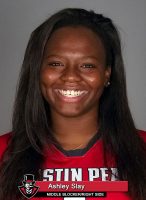 But Austin Peay showed signs of its comeback potential late in the second set facing set point at 24-18. The Governors scored four kills in a 5-0 burst – junior Ashley Slay had a pair while sophomore Cecily Gable and senior Sammie Ebright each chipped in a kill. Middle Tennessee would eventually claim the set, but the seed was planted.
That seed sprouted in the third set as the Govs drove to a 7-0 lead. Middle Tennessee helped the Govs with five errors in that opening burst, but the momentum was out of their control. The Govs build the lead to 10 points, 20-10, before easing its way to a 25-16 win. The Govs offense kept chugging along with 12 kills and a .290 attack percentage while Middle Tennessee faltered with nine kills and a .079 attack rate.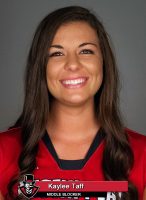 Austin Peay got right back to work to start the fourth set, breaking out to a 6-0 lead and again it was the Blue Raiders who helped out with five errors in the burst. Austin Peay pushed the lead to eight points, 10-2, as Teeter and sophomore Kaylee Taff combined for three straight kills. Middle Tennessee would make things interesting, closing to within two points at 24-22, but Taff ended the threat with a kill.
The Govs flexed their collective muscle in the fifth, using a 6-1 run to build a 8-3 lead. Middle Tennessee scored three straight points, but Austin Peay would not allow the score to close further. The Govs scored six of the final eight points to win the match.
Teeter led a quartet of Austin Peay hitters with 10-plus kills. Slay had a 13-kill performance and tacked on two service aces and two blocks. Ebright posted her season's first double-double with 10 kills and 11 digs. Taff added 11 kills and five blocks.
Regan Couglin led Middle Tennessee with 16 kills, hitting six in the first set and five in the fourth. Makila York added 13 kills off the bench while Vonnie Covington had 11 kills in an errorless attack outing (.611 attack percentage).
Inside The Box Score
Four-Headed Monster

For the first time in 2016, four Govs hitters posted 10 or more kills in the same match. Teeter's 15-kill performance off the bench led the way, but she was joined by junior Ashley Slay (13 kills), sophomore Kaylee Taff (10 kills) and senior Sammie Ebright (10 kills).
Teeter Top Return
Teeter was cruising right along with seven consecutive double-digit kill performances before she suffered an upper body injury at Eastern Kentucky, October 1st. 18 days later, she picked up right where she left off with 15 kills and a .464 attack percentage – both marks her second best this season.
Ebright Impressing

An outside hitter by trade, Ebright has recently impressed with her defensive prowess. She posted her season's first double-double with a season-best 10 kills and 11 digs. The 11-dig outing was her fourth straight double-digit effort and she has 55 digs (3.44 digs per set) during the stretch.
Slay's Sixth Double Digit Outing
Speaking of Governors on a streak, Slay posted her sixth consecutive double-digit kill outing and 15th overall this season, finishing with 13 kills at Middle Tennessee. She has 88 kills (3.83 per set) and an impressive .323 attack percentage during her current run.
Speaking of Sixes
Wednesday's win was the Govs sixth consecutive victory – their second six-match win streak this season. Austin Peay has won 12 of its last 13 matches, with a loss to OVC co-leader Murray State, breaking up the pair of six-match win streak.
Big Comeback a Rarity
The Govs came back from a two-set deficit for the first time since a November 3rd, 2012 victory against Southeast Missouri. They had three such wins during the 2012 season, including an October 10th contest against Middle Tennessee. Since the start of the current 25-point rally-scoring format, Austin Peay has come back from a 0-2 deficit to win just five times in 76 occasions.
Austin Peay, which has won 12 of its last 13 matches, jumps back into Ohio Valley Conference play when it faces Belmont in a 6:00pm, Friday contest at the Curb Event Center in Nashville, TN.