APSU Sports Information

Knoxville, TN – The Austin Peay men's tennis team completed their fall season at the Ohio Valley ITA Regional over the weekend.
Almantas Ozelis opened play with a 6-3, 6-1 in his first match topping Simon Bustamante from Chattanooga. Ozelis' run ended after a 6-2, 6-2 defeat to No. 9 seeded Timo Strodder from Tennessee.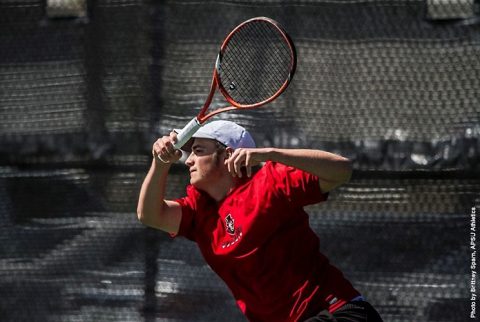 Manuel Montenegro took his first match of the event, 6-2, 6-2, defeating Bruno Russo from Belmont before falling in his second match, 6-2, 6-1, to No. 25 seed Parker Wynn from Louisville.
Aleh Drobysh lost his opening match, 7-5, 6-3, to Brad Luetschwager from IUPUI. In the consolation bracket, Drobysh also lost his first match, 6-2, 6-1, to Oliver Sec from Indiana.
James Mitchell also fell in his opening match, 6-2, 7-5, to Luca Wiedenmann from Tennessee. Mitchell ended the event with a 6-4, 7-5, loss to No. 14 seed Antonio Cembellin from Indiana.
Chad Woodham loss his opener in the main draw, 6-1, 6-4, to Ciro Lampasas from Louisville.
In doubles, Ozelis and Drobysh lost their opener to No. 14 seed Luis Morillo and Gian Issa from Middle Tennessee State, 8-5. Montenegro and Mitchell also fell in their opening doubles match, 8-7, to Max Grobbelaar and Michael Birnbaum from Chattanooga.
The event ended the fall slate for the Govs.