APSU Sports Information

Jacksonville, AL – Austin Peay State University men's basketball team enjoyed one of its season's best defensive efforts in Saturday's contest at Jacksonville State, but couldn't get one more shot of their own to roll home in a 71-68 loss to the Gamecocks at Pete Mathews Coliseum.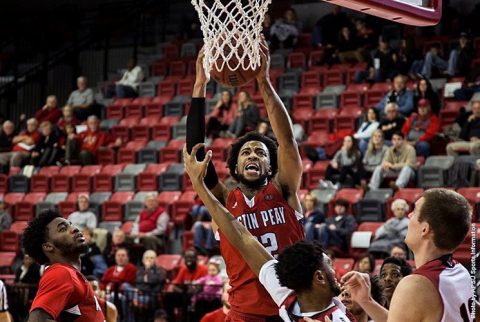 The numbers for Austin Peay defensively were sparkling–the Govs held Jacksonville State to 44.2 percent from the floor, lowest since November 20th, including a 29.4 percent showing from beyond the arc–and Austin Peay's offense more than held its own with a 50 percent mark from the floor.
But Jacksonville State converted at the free-throw line (20-for-22) and got a 25-point night from Malcolm Drumwright to overcome four Governors in double figures.
For the first time since November 26th against Spalding, the Governors took a lead into halftime thanks largely to Josh Robinson; the Govs led for much of the opening half before a Drumwright three put the Gamecocks up three with 1:12 to go.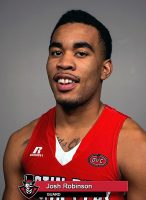 Robinson answered with a three of his own on the next possession and hit a free-throw with 19 ticks to go to give APSU its halftime advantage.
After a back-and-forth opening few minutes of the second half, the Govs and Gamecocks traded runs before a 10-3 Austin Peay run put the Govs up six with 4:49 to go.
Unfortunately, JSU closed on a 13-4 run, with Erik Durham hitting a go-ahead lay-up with 29 seconds to go and Norbertas Giga sinking two free-throws with eight seconds left to extend the lead.
The Governors got two looks from three in the final moments but just missed on both to allow Jacksonville State to hang on.
The Difference
Jacksonville State outrebounded the Govs 33-25, including nine offensive boards that turned into 14 Gamecock points.
Notably
Robinson scored 17 points, putting him four away from passing Lamonte Ware for 18th all-time; with three three-pointers, he passed Travis Betran for ninth all-time with 160. Next up: Donald Tivis (1988-91) with 175.
Senior John Murry finished with 12 points—giving him three straight games in double figures for the third time this season—and equaled his career-high with seven rebounds.
Senior Kenny Jones scored 15 on 6-for-8 shooting, marking the 13th time in 17 games he's hit at least 60 percent from the floor.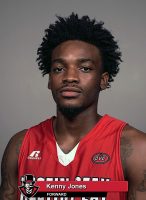 Jacksonville State shot just 44.2 percent from the floor, lowest by an Austin Peay opponent since Delaware, November 20th (40.6 percent).
Unfortunately, the Gamecocks 90.9 percent (20-for-22) mark from the free-throw line equaled Delaware for best by an APSU opponent in 2016-17.
After allowing five of six opponents from December 10th-28th to hit at least 50 percent from beyond the arc, Austin Peay is limiting its last three opponents to 31.0 percent (22-for-71) after JSU went 5-for-17 from deep; the Govs held Erik Durham, the nation's second-leading three-point shooter, to an 0-for-5 mark from outside.
Up Next for APSU Govs
Austin Peay heads back to Clarksville for a few days of practice before taking to the road again, traveling to SIU Edwardsville (7:30pm, Thursday) and Eastern Illinois (11:00am, Saturday) to conclude the longest conference road trip of the 2016-17 campaign.