APSU Sports Information

Richmond, KY – Forty minutes was not nearly enough in a wild contest between Austin Peay State University men's basketball and Eastern Kentucky, Wednesday night.
No, they needed five more to pack in all this game had to offer.
Zach Glotta hit a three with 5.3 seconds left in regulation to tie the game up and send it into overtime, where Austin Peay held off its host for an 83-81 win at Alumni Coliseum, moving to 4-6 in OVC play and setting up a showdown with Tennessee State—which currently stands 4-5 and would be the No. 8 seed in the OVC Tournament—on Saturday.
Austin Peay's John Murry was the main attraction in the first half. The Indianapolis native poured in 17 points, including yet another patented 10-points-in-less-than-five-minutes outburst, to give Austin Peay a 36-31 lead at the break.
The second half was a chess match, with both teams matching each other to the final whistle. When Austin Peay's lead stretched to seven points with 14:23 to go, the Colonels went on a quick 7-0 to tie it—one of 14 ties and 16 lead changes in this contest.
After taking a four-point lead with 1:58 to go, another 7-0 Eastern Kentucky run put the Colonels up three with less than a minute to go. But Glotta, after securing a loose ball following an Austin Peay miss, stepped back, pump faked and launched a rainbow that swished through to tie it up—one of four threes hit by the O'Fallon, MO, native in the second half.
In overtime, senior Kenny Jones scored eight of the Govs 12 points—including an emphatic dunk with 1:51 to go that put the Govs ahead for good. He finished with 23 points and a career-high 14 rebounds, one of five Govs in double figures—Murry led the way with a career-high 27 points.
The Difference
The Govs didn't just win the rebounding battle—Austin Peay controlled the glass to the tune of a plus-nine rebounding margin (38-29), led by Jones (14 boards) and Jared Savage (eight).
It was the Governors largest positive margin against a Division I foe since March 2nd, 2016 against Tennessee Tech in the opening round of the OVC Tournament.
Notably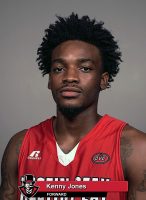 Jones set career-highs in rebounds (14) and field goals made (11) and equaled his career-best with three steals. The double-double was the 10th of his Austin Peay career.
Streaks Snapped: The Govs snapped a four-game overall losing streak (dating back to 2013) and a three-game road losing streak (dating back to 2011) against the Colonels.
The Govs are now hitting 64.8 percent (127-for-196) from the free-throw line in wins this season after hitting 15-for-25 at Eastern Kentucky; Austin Peay are shooting 73.1 percent (264-for-361) in losses.
Murry's career-high 27 points were much-needed with Josh Robinson (eye) out of this contest. It's his seventh career 20-point night as a Governor—five of which have come this season in OVC play. And for the sixth time this season, he needed less than five minutes to put 10 points on the board, scoring 10 in 4:44 (17:42-12:58) in the first half.
The victory was career win No. 499 for head coach Dave Loos.
With Robinson out, Glotta made the most of his season's fourth start. He reached double figures for the first time since December 17th (Evansville) and recorded season-highs in minutes (31) and rebounds (three).
Five Govs scored in double figures for the third time this season and second game in a row—it was the first time in 2016-17 the Govs won a game that saw five APSU players in double figures.
Sophomore
Chris Porter-Bunton
made it back-to-back games in double figures for the first time in his Austin Peay career, scoring 10 points. He's hitting 51.1 percent (24-for-47) from the floor in OVC play.
The Govs are 3-0 in overtime games in 2016-17 and have won four straight overtime contests dating back to last season. It's Austin Peay's longest overtime win streak since winning five straight across three seasons (2005-06, 2006-07, 2007-08).
For the second straight game, Austin Peay's opponent did not record a blocked shot.
With 10 points, Savage extended his career-long double figure scoring streak to 10 games. He also finished with four steals, his fourth multi-steal game since OVC play began.
Coaching Quotables
Head Coach Dave Loos
On the first half
"I had to like the defense. We shot it well, but we had been harping on their defense all year and we held them to 40 percent shooting in the first half, so that was a real plus."
On offense
"We had some spells where we played too fast, but for the most part I thought we were organized and made them guard us a little bit. As a result, we got some really good looks. We played at a good pace offensively throughout the game for the most part."
On the game overall
"It was a terrific effort to come on the road and be able to win a game in a place like Eastern Kentucky. They were rock solid down the stretch and then Glotta hit that huge shot down the stretch. In some ways, this was probably our best game of the year."
Up Next for APSU Govs
Loos gets his first crack at career win No. 500 when the Govs host Tennessee State, 6:30pm, Saturday, at the Dunn Center.