APSU Sports Information
Clarksville, TN – Austin Peay State University's baseball designated hitter Alex Robles' delivered a walk-off home run in the 14th inning to catapult the Governors to a 6-5 Ohio Valley Conference victory against Jacksonville State, Sunday afternoon at Raymond C. Hand Park.
Trailing 5-0 in the sixth inning after a solo home, Austin Peay (9-6, 3-0 OVC) head coach Travis Janssen dipped back into his bullpen and brought on left-hander Levi Primasing.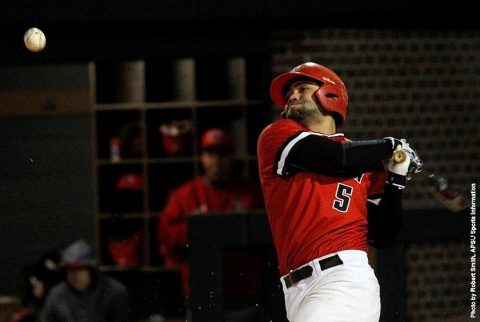 The move proved to be an early turning point in the contest as Primasing worked around a single to the first batter he faced by inducing a pair of lazy fly outs to end the frame.
That leadoff single would be the only base hit allowed by Primasing. Those two flyouts were the first of 12 consecutive batters retired by the Clarksville product, giving Austin Peay's offense the opportunity to close the gap.
Austin Peay (9-6, 3-0 OVC) would slowly work its way back, scoring single runs in the seventh and eighth innings. Third baseman Parker Phillips tripled to start the seventh and scored on shortstop Kyle Wilson's single. In the eighth, the Govs loaded the bases but were limited to a lone run on first baseman Dre Gleason's single.
But Primasing kept throwing zeroes on the board, leaving the Govs a chance. The ninth inning spark came from pinch hitter Brett Newberg, who took the second pitch he faced over the wall in left for his first collegiate home run. The next two APSU batters would reach base before JSU reliever Justin Hoyt got the next two Govs out. However, his luck ran out when Gleason came to the plate and doubled off the wall in left to drive in the game-tying runs and force extra innings.
Primasing returned to start the 10th and recorded his 12th and final out by retiring the leadoff batter. Janssen would turn to left-hander Josh Rye who would walk a pair of batters after retiring the first man he faced, but he avoided any damage by getting a ground out back to the mound.
Jacksonville State (7-7, 0-3 OVC) had by far the best opportunity in extra innings when left fielder Nolan Greckel led off the 12th with a single and advanced to third on shortstop Tyler Hawthorne's single. However, Rye escaped the jam with a perfectly timed double play that was exquisitely turned by Wilson, second baseman Garrett Giovannelli and Gleason.
Like Primasing before him, Rye would keep putting up zeroes and the duos work paid off in the 14th. Robles stepped to the plate with two outs and took the first pitch he saw over the wall in left, ending the game with his first hit of the contest.
Rye (3-0) picked up his first relief win of 2017 after holding the Gamecocks to three hits over his career-high 4.2 innings on the mound. Primasing and Rye combined to retire 26 of the 32 batters they faced.
Giovannelli led the Govs with his first career four-hit outing, going 4-for-6 and scoring twice – in the eighth and ninth innings. Gleason went 3-for-5 with his three RBI coming in the Govs eighth and ninth innings. Newberg and Wilson also had two hits each as the Govs finished with 15 hits.
Jacksonville State reliever Grant Chandler (0-1) suffered the loss despite holding Austin Peay to the one run on four hits in his 4.2 innings of work. Second baseman Clayton Daniel went 2-for-7 with two doubles and three RBI to pace the Gamecock's 12-hit outing.
Who Governed
Sunday's come-from behind win wouldn't have been possible without the effort of relievers Levi Primasing and Josh Rye. Primasing entered in the seventh inning with the Govs trailing 5-0 and promptly limited Jacksonville State to one hit over his four scoreless innings.
Rye took over in the 10th and followed that performance with a career-high 4.2 innings of scoreless relief giving the Govs opportunity to score the game's final six runs.
Notably
Walk-Off Winner
Robles' two-out solo home run in the 14th gave Austin Peay its first walk-off win since May 12th, 2014 against UT Martin. The Govs did post a win in their last at-bat against Belmont in last season's OVC Championship, but they were the visitor on the scoreboard.
First come-From-Behind Win
For the first time this season, Austin Peay won a contest in which it trailed, rallying from a five-run deficit. Prior to Sunday's victory, the Govs had not won a game in which they had trailed at any point.
The 12th Man
Austin Peay's three-run ninth inning was brought to life when pinch hitter Brett Newberg launched a leadoff home run. It was his first collegiate home run and he became the 12th Govs hitter to record a home run in 2017 – tying the program record for most players with a home run in a season.
Fifth-Straight Extra-Inning Win
The Governors won their fifth consecutive extra-inning affair, dating back to last season. Austin Peay was unbeaten when going to extra frames last season, including the aforementioned Belmont contest.
How Sweep It Is
Austin Peay swept its second straight OVC series after closing 2016 with a sweep of their OVC set at SIUE. It was the Govs first-ever sweep of Jacksonville State during the regular season, in the 14th OVC series between the two teams. It also is the third consecutive season APSU has swept its OVC-opening series after taking three from Eastern Illinois in both 2015 and 2016.
Atop The OVC
With the sweep, Austin Peay ends the opening week of OVC play tied atop the OVC standings with Tennessee Tech and Morehead State.
What A Weekend
Mother Nature wreaked havoc on this weekend's series. First, the series opener was delayed by six hours due to the previous night's heavy rain causing the field to be unplayable. Austin Peay then awoke to find its field covered with snow prior to Saturday's game, delaying the start two hours and forcing the team's to play in 40-degree weather. Sunday dawned bright and sunny so the Govs and Gamecocks decided to play a 14-inning affair.
14 Inning Affair
Speaking of 14 innings, it is the Govs longest game by inning count since its 17-inning marathon at Eastern Illinois in 2012. It was Austin Peay's longest home game by innings played since its 14-inning loss to Vanderbilt in 2006.
Next up for APSU Baseball
Austin Peay now prepares for a four-game road trip, scheduled to start with a 5:00pm (CDT), Wednesday contest at Tennessee. The Govs then return to OVC play with a three-game OVC set at Murray State, scheduled for Friday-Sunday.