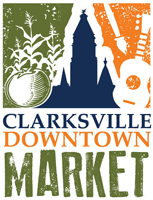 Clarksville, TN – The Clarksville Downtown Market is accepting applications for vendors for its 2017 season, which begins May 20th and runs through October 14th.
The 2017 market season will be from 8:00am to 1:00pm on Saturdays in downtown Clarksville on Public Square. Since its opening in 2009, the Clarksville Downtown Market has been voted the number one farmers' market in Tennessee every year!
The Clarksville Downtown Market is seeking vendors of all types. Sellers of local produce, dairy, honey, flowers, cheeses, meats, food products, baked goods/breads, and artisan items are strongly encouraged to apply, but all applicants will be considered. All items must be handmade, homegrown or gathered by the seller or family members.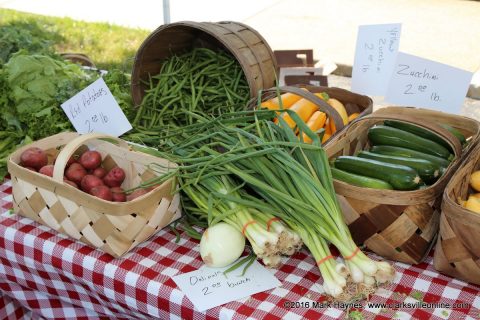 "The Clarksville Downtown Market is a great way for citizens to interact with those who grow and produce locally and I am so excited to be a part of that connection," said Market Manager Channel Lemon. "I encourage all local farmers and artisans to apply."
The fee for a full-time vendor, selling at all 20 market days, is $200.00. The fee for part-time vendors, selling at 10 market days, is $150.00. Fill-in vendors must pay $20.00 per market day. All vendor spaces include one white 10-by-10 tent, one table, one chair and access to electricity. The fees for food truck vendors is $700.00 for all 20 market days or $45.00 per market day as a fill-in vendor.
Interested vendors and food trucks can apply online at www.clarksvilledowntownmarket.com
Vendors must apply each year. Non-produce vendors are required to submit photos of their products and produce vendors must complete a farm inspection conducted by our Market Manager. Applications must be submitted by March 17th to be considered.
Live music continues to be a part of our Market atmosphere. If you or your group are interested in performing during one of our market days, apply online at clarksvilledowntownmarket.com
For complete vendor rules and guidelines, contact Clarksville Parks and Recreation at 931.645.7476 or visit www.clarksvilledowntownmarket.com
About the Clarksville Downtown Market
The Clarksville Downtown Market, sponsored by Seasons Market, is a weekly open-air market featuring local farmers and artisans who offer locally-grown fresh produce, food items, and handcrafted products. The Market strives to provide an opportunity for local customers to connect with local businesses, while enhancing quality of life in our community.
Enjoy live music, meet our Market mascot, "Corny the Cob," and experience special events on select market days. Be sure to become a fan or follower on Facebook by searching Clarksville Downtown Market and stay "in the know" about the upcoming season.