Clarksville, TN – Austin Peay State University has retooled its engineering technology program Over the last year and is in the process of repurposing its Technology Building (formerly the Hemlock Semiconductor Building), to meet the growing manufacturing needs of the state.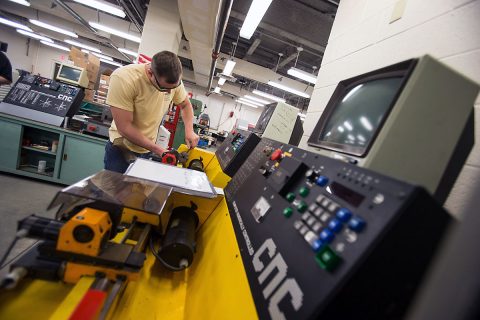 According to the Tennessee Department of Economic and Community Development, "Advanced manufacturing job creation in Tennessee far outpaces national growth, at 27.1 percent job growth in Tennessee compared to 8.7 percent nationally from 2010 to 2015."
More manufacturers are relocating into this region, but the new facilities are heavily automated, which means they need highly skilled employees to design, operate and maintain these machines.
And the demand will keep growing worldwide because, according to a recent analysis by the Boston Consulting Group, "By 2025, the share of tasks performed by robots will rise from a global average of around 10 percent to about 25 percent across all manufacturing industries."
For years, APSU has offered engineering technology degrees at the associate and bachelor's level at the Austin Peay Center at Fort Campbell, but that program has now expanded to the Clarksville campus, with an emphasis in advanced manufacturing, to address this new demand.
"This program is geared perfectly to meet the needs of our state," Dr. Chad Brooks, interim associate provost for research and dean of the APSU College of Graduate Studies, said. "We now need to make companies aware that we can elevate their employees' skill set with a very fast paced, hands-on training program that fits the adult learner lifestyle."
One of the concentrations within both the Associate of Applied Science degree and the Bachelor of Science degree is mechatronics, which is a field that combines mechanical engineering, electrical engineer and other engineering disciplines.
"In today's world, manufacturing automation is the key to success, and mechatronics is a degree that trains the individual to be an expert in the field of automation design and implementation," Dr. John Byrd, chair of APSU Department of Engineering Technology, said. "The job market is way understaffed at this time, so it's a high paying field. These students will be grabbed by employers faster than any other student coming out of the University."
According to the U.S. Bureau of Labor Statistics, electro-mechanical technicians with an associate degree can earn between $50,000 to $81,000 a year, depending on the location and the industry.
"It's one of the most versatile and useful degrees because it allows a person to enter so many marketplaces," Brooks said.
In 2010, the University opened a new chemical engineering technology facility, but as the demand for jobs in that field has dropped, Austin Peay began modifying the campus' Technology Building to meet the needs of the engineering technology program's curriculum and the manufacturing needs of the state.
"Austin Peay is being responsive by rapidly repurposing this space," Dr. Jaime Taylor, dean of the College of Science and Mathematics, said. "This will be where mechatronics is taught. The building is changing, moving away from chemical engineering technology. This will become our advanced manufacturing lab."
For more information on the program, visit the department's website at www.apsu.edu/engineering-technology