APSU Sports Information

Nashville, TN – On Friday afternoon, March 17th, the Austin Peay State University men's tennis team opened Ohio Valley Conference action with a 6-1 win over Tennessee State.
The Govs took the doubles point behind a 6-4 win at No. 1 from Aleh Drobysh and Almantas Ozelis and a 6-3 win from Aaron Jumonville and Manuel Montenegro in the No.2 match.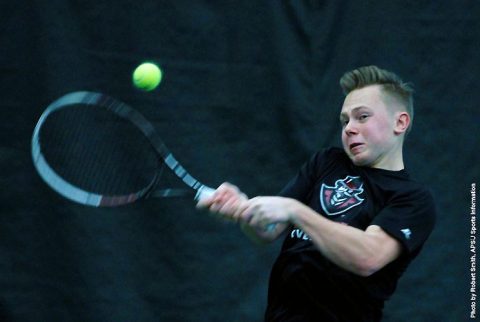 The Govs cruised to the victory with straight set wins from Ozelis, 6-2, 6-2, in his No. 2 match, Jumonville, 6-1, 6-2 in his No. 3 match and Woodham, 6-2, 6-4, in his No. 6 match.
Manuel Montenegro rallied after falling behind 6-2 in set 1 for a pair of 6-4 wins in set two and three in his No. 1 singles match capping off the scoring.
The Govs will travel to Belmont on Saturday, March 18 with the match slated for 10:00am.
Match Results
Austin Peay 6, Tennessee State 1
Singles competition
1. Manuel Montenegro (APSU) def. BROWN, Matthew (TSUM) 2-6, 6-4, 6-4
2. Almantas Ozelis (APSU) def. RODRIGUEZ, Jorge (TSUM) 6-2, 6-2
3. Aaron Jumonville (APSU) def. PARANT, Tom (TSUM) 6-1, 6-2
4. Alex Kartsonis (APSU) def. NAUTIYAL, Shashank (TSUM) 6-1, 7-6
5. BURTON, Kyle (TSUM) def. Aleh Drobysh (APSU) 6-3, 6-1
6. Chad Woodham (APSU) def. RICHARDSON, Kato (TSUM) 6-2, 6-4
Doubles competition
1. Aleh Drobysh/Almantas Ozelis (APSU) def. BROWN, Matthew/MADDOX, Grant (TSUM) 6-4
2. Aaron Jumonville/Manuel Montenegro (APSU) def. BURTON, Kyle/PARANT, Tom (TSUM) 6-3
3. Alex Kartsonis/Chad Woodham (APSU) vs. RODRIGUEZ, Jorge/NAUTIYAL, Shashank (TSUM) no result
Match Notes:
Austin Peay 4-8
Tennessee State 5-4
Official: Mande Roberts T-3:00