Austin Peay (11-12, 4-5 OVC) at Middle Tennessee (9-14, 1-5 CUSA)
Wednesday, March 29th.2017 | 6:00pm CT
Murfreesboro, TN | Reese Smith Jr. Field
Clarksville, TN – Austin Peay State University's baseball team begins its longest scheduled excursion of 2017 when it kicks off a five-game road trip with a 6:00pm, Wednesday contest against Middle Tennessee at Reese Smith Jr. Field in Murfreesboro, TN.

Wednesday's matchup is the second game of the home-and-home series between the two in-state foes, Austin Peay winning a 21-8 decision in Clarksville, February 28th.

The Govs will seek a sweep of the two-game set, matching the feat they accomplished in 2015.
Probable Starters
APSU: LHP Josh Rye (3-0, 4.74 ERA)
MTSU: RHP AJ Spencer (0-0, 19.29 ERA)
Series Notes
Longtine In-State Foes
Wednesday's meeting between the Govs and Blue Raiders will be the 203rd meeting between the two in-state foes, tying it with the Govs series against Murray State for most played in APSU history. MTSU owns a 131-72 advantage in the series, which dates back to 1937, including a 62-25 margin in Murfreesboro.
First Meeting
Gleason's career-high 7 RBI paces Govs in rout of Blue Raiders. First baseman Dre Gleason had four hits and a career-high seven RBI as Austin Peay routed Middle Tennessee, 21-8, in the season's first meeting between the teams, February 28th, in Clarksville. Austin Peay finished with 13 extra-base hits in its 22-hit outburst, posting nine doubles and four home runs – Gleason hitting one of each.
First Hacks
Home Run Hearsay
After hitting a Raymond C. Hand Park record six home runs against Tennessee Tech, Saturday, Austin Peay moved back atop the Division I leaderboard in home runs per game (1.87). The six home run outburst also was the second most hit by any Division I team this season, two shy of Michigan State's eight home runs against Illinois the next day.
The Govs also were ranked No. 3 in total home runs (43) and No. 4 in slugging percentage (.535). Freshman Tyler Hubbard became the 13th different Govs batter to hit a home run in 2017, breaking the program record for most players with a home run in a season. Hubbard became the second Govs hitter to drive a pinch-hit home run this season (sophomore Brett Newberg the other). The Govs 43 home runs already ranks 16th on the team's single-season record list, with more than half the season remaining.
Individually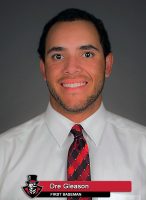 Senior first baseman Dre Gleason is the only Division I player ranked among the nation's Top 10 in batting average (10th, .436), on-base percentage (6th, .545), slugging percentage (8th, .821) and RBI per game (5th, 1.52). Gleason needs just three hits to become the 19th Govs hitter to reach the 200-hit plateau.
Redshirt freshman infielder Parker Phillips hit a home run in each of the three games against Tennessee Tech (4 HR total) and has hit a home run in four of his last five games, while plating 11 RBI in that five-game stretch.
Junior second baseman Garrett Giovannelli has marched through March, batting .316 entering the month's final days and has raised is average 97 points from its low-water mark; he missed the final two games of the TTU set due to illness. Senior utility man Alex Robles brings a six-game hit streak into the midweek outing (11-for-25, .440, 3 2B, 7 RBI).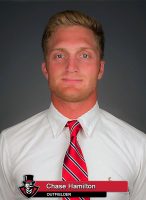 Senior right fielder Chase Hamilton had a walkoff ground out in last Wednesday's contest against Arkansas State, sparking his current four-game hit streak (5 H). Redshirt junior left fielder Cayce Bredlau has a a hit in five of his last six games and a double in four of those contests (9-for-25, 5 2B, 7 RBI in last 6 games).
Junior shortstop Kyle Wilson has a hit in five of his last six games (6-for-21, 2 3B), pushing his average up 21 points. Junior center fielder Imani Willis has a hit in seven of his last nine games (8 H, 2 2B), but missed Saturday's series finale against Tennessee Tech. Sophomore catcher Alex Sala broke a three-game hitless stretch with a 1-for-5 outing against Tennessee Tech, Saturday.
Redshirt freshman Max Remy was called on to start at second base for an ailing Giovannelli against Tennessee Tech, and went 3-for-9 with a double in his two starts. Freshman infielder Landon Kelly started two games at third base against Tennessee Tech, going 3-for-6 with a double and home run in the series finale, Saturday.
Sophomore Brett Newberg has an extra-base hit in three of his last four pinch-hit appearances (3-for-3, 2B, 2 HR, 4 RBI, HBP).
Toeing The Rubber
Staff Notes
APSU pitchers continue to record strikeouts, with 122 Ks in 136 March innings while racking up 196 Ks through 206 innings this season. Their 8.56 strikeouts per nine innings would break the program record and ranks 105th nationally.

Sophomore Josh Rye picked up victories in the Govs first two midweek outings this season, including the earlier win against Middle Tennessee, and has three midweek starts in 2017.

The past two midweeks have seen different starters with junior Brett Newberg making his first start as a Governor at Tennessee, March 15th, followed by redshirt senior Jordan Witcig's first-ever Govs start against Arkansas State, March 22nd.

Govs midweek starters have combined for a 1.74 ERA and limited opponents to a .176 batting average in five games (10.1 innings pitched).
Next Up for APSU Baseball
The Govs continue the road trip with a three-game Ohio Valley Conference series at Southeast Missouri, Friday-Sunday, at the renovated Capaha Park in Cape Girardeau, Missouri. The three-game set looms large for Austin Peay which will place its offense against the OVC's top pitching staff.
Follow APSU Govs
For additional coverage of Austin Peay's baseball team, follow the Govs on Twitter @AustinPeayBSB. Austin Peay's athletics department also maintains several social media accounts @LetsGoPeay (Twitter), /LetsGoPeay (Facebook) and /LetsGoPeay (Instagram).
Sections
Sports
Topics
Alex Robles, Alex Sala, APSU, APSU Athletics, APSU Baseball, APSU Men's Baseball, APSU Sports, Arkansas State, Austin Peay State University, Blue Raiders, Brett Newberg, Cape Girardeau MO, Cayce Bredlau, Chase Hamilton, Clarksville TN, Dre Gleason, Garrett Giovannelli, Governors, Govs, Illinois, Imani Willis, Jordan Witcig, Josh Rye, Kyle Wilson, Landon Kelly, Max Remy, Michigan State, Middle Tennessee, MTSU, Murfreesboro TN, Ohio Valley Conference, OVC, Parker Phillips, Raymond C. Hand Park, Reese Smith Jr. Field, Southeast Missouri, Tennessee Tech, Tyler Hubbard