Clarksville, TN – A couple found out that accidentally cutting someone off on the roadway can lead to scary consequences.
On May 1st, 2017, around 4:00pm, a 45 year old man driving south on Providence Boulevard attempted to merge into the right lane, did not see a vehicle which was already occupying the lane, and almost collided with the other vehicle.
The driver of the other vehicle, Michael Barron, honked at the 45 year old driver, at which time, the 45 year old driver immediately returned to his lane of travel. The vehicles did not make contact at all.
When Michael Barron's and the 45 year old's vehicles were next to each other, the 45 year old saw that a handgun was being pointed, through an open window, at him and his female passenger. The handgun was pointed at them a second time as they passed the vehicle again.
Officers were given a description of the suspect's vehicle and the license plate number. Officer located and stopped the car on Cumberland Drive.
A 9mm handgun was found in the passenger seat of the vehicle. Michael Barron was identified as the man who had pointed the handgun at the man and woman in the vehicle.
Michael Barron, 58 was taken into custody and booked into the Montgomery County Jail on charges of: Aggravated Assault x 2; Bond: $50,000.
Michael Barron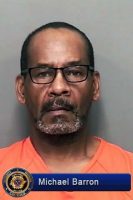 Name: Michael Barron
Gender: M
Race: B
Address: Cumberland Drive, Clarksville, TN
Arresting Officer: Holder
Charged With: Two Counts Aggravated Assault
Booked Into: Montgomery County Jail
Bond: $50,000.00