April 2017 Data Tells Story of Continued Improvement in Tennessee's Workforce

Nashville, TN – Tennessee's county unemployment rates for April 2017 have decreased in all 95 counties, according to data released today by the Tennessee Department of Labor and Workforce Development (TDLWD).
Montgomery County's unemployment rate in April dropped to 4.1 percent from March's 5.0 percent.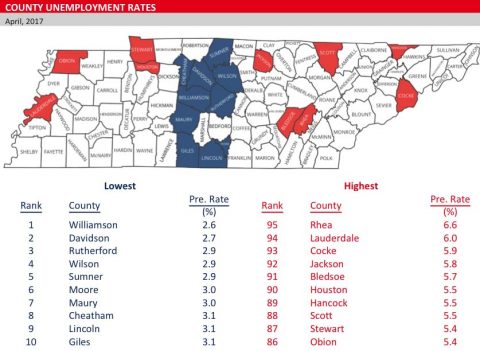 "One year ago, we had eight counties with an unemployment rate above 6 percent," said TDLWD Commissioner Burns Phillips. "This April, only two counties in the entire state reached that level. While we still have work to do, it is clear Tennessee is making progress in putting people to work."
For the month of April, Davidson County has the state's lowest major metropolitan rate at 2.7 percent, a decline from 3.4 percent of the prior month. Knox County's rate is 3.2 percent, decreasing from March's 3.9 percent. Hamilton County declined from its previous month's rate of 4.5 to 3.6 percent and Shelby County has an unemployment rate of 4.4 percent rate, a decrease from 5.3 percent in March.

Preliminary unemployment rates have fallen for both Tennessee and the United States. Decreasing by four-tenths of a percentage point, the state rate is 4.7 percent for April. The national rate fell a tenth of percentage point to 4.4 percent for the month.
Specific county information for the month of April is available online at http://tn.gov/assets/entities/labor/attachments/Labor_Force_Estimates%2C_Apr_17.pdf
The state and national unemployment rates are seasonally adjusted, while the county unemployment rates are not. Seasonal adjustment is a statistical technique that eliminates the influences of weather, holidays, opening and closing of schools, and other recurring seasonal events from economic time series.
Sections
News
Topics
Burns Phillips, Davidson County, Hamilton County, Knox County, Montgomery County, Montgomery County Unemployment Rate, Nashville TN, Shelby County, Tennessee, Tennessee Department of Labor and Workforce Development, Tennessee Unemployment, Unemployment Rate, United States