APSU Sports Information
Clarksville, TN – Add Austin Peay State University's volleyball team to the fall squads returning to campus. The Governors reported back Sunday afternoon prior to their first scheduled practice, Tuesday, August 8th, 2017 at the Dunn Center.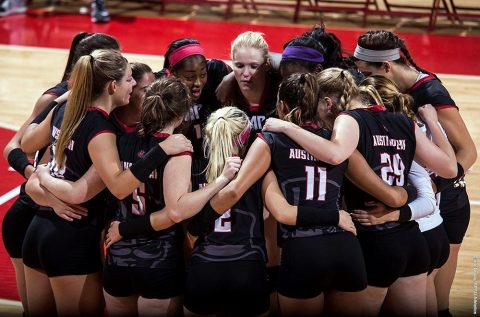 Austin Peay head coach Taylor Mott, entering her sixth season, will have 16 athletes in preseason camp – 11 returnees and five newcomers.
The Governors will look to build on a 2016 campaign that saw it post a 12-4 record in Ohio Valley Conference play.
The Governors will hold team meetings Monday before opening practice Tuesday. Austin Peay will hold its first two-a-day practices at 10:00am and 3:00pm, Tuesday in the Dunn Center. The Govs then will move to the Foy Fitness & Recreation Center the week's remainder.
Austin Peay will have a short 19-day window to prepare for its season opener, an August 25th contest against UMKC in the Culvers Governors Challenge. The Governors will play four matches in that season-opening home tournament, including matches against Missouri and Northern Iowa – two NCAA tournament participants last season.
GOVERNORS VOLLEYBALL PRESEASON WEEK 1
Date
Time
Event
Location
Mon., Aug. 7
All Day
Team Meetings
Dunn Center
Tue., Aug. 8
10 a.m.
3 p.m.
Practice 1
Practice 2
Dunn Center
Wed., Aug. 9
10:30 a.m.
2:30 p.m.
Practice 3
Practice 4
Foy Center
Thu., Aug. 10
10 a.m.
2:30 p.m.
Practice 5
Practice 6
Foy Center
Fri., Aug. 11
10:30 a.m.
2:30 p.m.
Practice 7
Practice 8
Foy Center
Sat., Aug. 12
2:30 p.m.
6:30 p.m.
Practice 9
Practice 10
Dun Center
Sun., Aug. 13
Off Day
–
–