Clarksville, TN – Next month, Austin Peay State University's The New Gallery, with support from the APSU Center of Excellence for the Creative Arts and the APSU Department of Art + Design, will present the Faculty Triennial, an exhibition celebrating the artwork of current Art + Design faculty.
This year has brought many celebrations to the Department of Art + Design. In August, the new Art + Design building opened its doors to students with new studio classrooms and new exhibition spaces.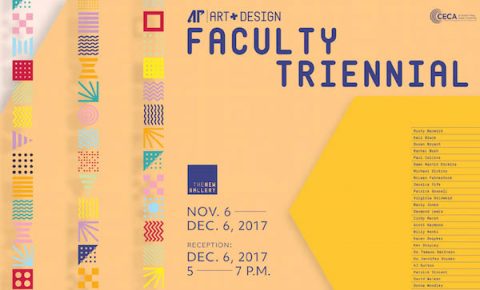 This February will mark the department's 75th anniversary.
The department was formed when Austin Peay Normal School became Austin Peay State College, making it one of the oldest departments on campus.
"Visual art has shaped and expanded the minds of the Austin Peay student and surrounding community for nearly eight decades – a feat that is impossible without the research, talent and dedication of the art faculty, and the support of the University and the Center of Excellence," Michael Dickins, gallery director for The New Gallery, said.
"Continuing one's art practice is essential. It is how the faculty of Art + Design further define their craftsmanship and skills that they then can pass along to the students in the classroom. The Faculty Triennial exhibition gives the students, University colleagues and the community a chance to experience recent work created by the APSU Art + Design faculty,"
The list of faculty in this year's triennial include: Rusty Barwick, Kell Black, Susan Bryant, Rachel Bush, Paul Collins, Dawn Martin Dickins, Michael Dickins, McLean Fahnestock, Jessica Fife, Patrick Gosnell, Virginia Griswold, Barry Jones, Desmond Lewis, Cindy Marsh, Scott Raymond, Billy Renkl, Karen Seapker, Ken Shipley, Dr. Tamara Smithers, Dr. Jennifer Snyder, AJ Sutton, Patrick Vincent, David Walker and Donna Woodley.
The exhibit opens November 6th, 2017 at The New Gallery, located in the APSU Art + Design building, and runs through December 6th, 2017. There will be a closing reception 5:00pm-7:00pm on December 6th, and that event is open to the public. As part of Clarksville's First Thursday Art Crawl, The New Gallery will be open from 5:00pm-7:00pm on November 2th, with a special preview of the work. All are welcome.
Hours for The New Gallery are Monday – Friday, 9:00am – 4:00pm. The gallery is closed on weekends and holidays, and the gallery follows the university's academic calendar. For more information on this exhibition, which is free and open to the public, contact Dickins at dickinsm@apsu.edu