APSU Sports Information

Clarksville, TN – Austin Peay State University's football team has added to its 2018 signing class, with head coach Will Healy and his staff adding eight athletes to the Governors roster during the traditional February signing day, Wednesday.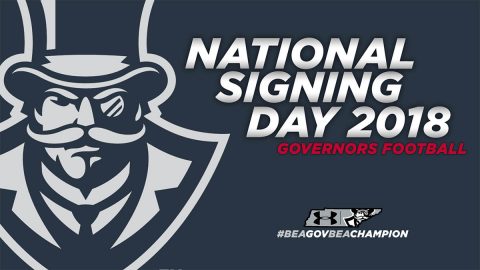 The current eight-man February signing class has a distinctive Southern taste with three signees each from Alabama and Georgia with Mississippi and Florida supplying one man each to the Governors.
Along with the 13 signees during the first-ever early signing period in December, Austin Peay has added 21 new faces to its 2018 roster.
Additional signees may be announced during the rest of the February signing period, fans should follow Austin Peay football at LetsGoPeay.com or on Twitter (@AustinPeayFB).
February National Signing Day
Name
Pos.
Ht.
Wt.
Hometown (Previous School)
LaDerrick Bell
QB
6-2
177
Anniston, Ala. (Saks Academy)
Arthur Brantley IV
ATH
6-2
165
Sarasota, Fla. (Riverview HS)
Parker Dennis
LB
6-1
215
Montgomery, Ala. (Montgomery Catholic HS)
Brandon Lopes
LB
6-1
220
Stockbridge, Ga. (Stockbridge HS)
Nasir Love-Porter
DB
5-11
165
Dalton, Ga. (Dalton HS)
Darius Nalls
WR
6-2
185
Fayette, Ala. (Fayette County HS)
Darius Shipp
DT
6-3
300
Olive Branch, Miss. (Lewisburg HS)
Bucky Williams
OL
6-6
285
Ringgold, Ga. (Ringgold HS)
December Early Signing Period
Name
Pos.
Ht.
Wt.
Hometown (Previous School)
Garrett Bell
OL
6-5
260
Birmingham, Ala. (Briarwood Christian HS)
Rashon Davis
DB
5-11
170
St. Louis, Mo. (Christian Brothers College HS/Eastern Michigan)
Johnathon Edwards
S
6-3
185
Philadelphia, Miss. (Philadelphia HS/Northeast Mississippi CC)
Erskine Francis
CB
6-1
180
Slidell, La. (Salmen HS/Fort Scott CC)
Marquise Griffin
DL
6-3
320
Carthage, Miss. (Leake Central HS/East Mississippi CC)
Ziyon Kenner
WR
5-9
160
Hopkinsville, Ky. (Bowling Green HS)
Demetrius Market
DB
5-8
168
Batesville, Miss. (South Panola HS/Southern Miss)
Jimmyrious Parker
WR
5-5
150
Nashville, Tenn. (Pearl Cohn HS)
Dave Roberts
OL
6-4
260
Lewisburg, Tenn. (Marshall County HS)
Jalyn Shelton
RB
5-10
218
Rossville, Ga. (Ridgeland HS)
Kwame Sutton
DE
6-1
233
Blacksburg, S.C. (Blacksburg HS)
Blake Watson
TE
6-3
220
Maryville, Tenn. (Maryville HS)
LaDerrick Bell
QB, 6-2, 177, Anniston, Alabama (Saks Academy)
Before APSU:
Dual-threat quarterback earned Honorable Mention Class 4A All-State pick by Alabama Sports Writers Association and led Saks Academy and Jonathan Miller to 2017 Alabama Class 4A semifinals
Anniston Star Class 4A-6A Calhoun County Player of the Year
Posted 203 total offensive yards in state semifinal contest against Fayette County – 94 rushing and 109 passing yards with two rushing scores..
Arthur Brantley IV
ATH, 6-2, 165, Sarasota, Florida (Riverview HS)
Before APSU:
Dual-threat quarterback led Riverview High School and head coach Josh Smithers to 2017 Florida Class 8A State quarterfinal round
Completed 35-of-51 passes for 477 yards in three playoff games, including 22-for-32, 288-yard effort against Dr. Phillips High School in quarterfinal game
Played two seasons at Booker High School after starting prep career at Riverview.
Parker Dennis
LB, 6-1, 215, Montgomery, Alabama (Montgomery Catholic HS)
Before APSU:
Recorded 77 tackles, including 21 tackles for loss and six sacks at Montgomery Catholic Prep for head coach Aubrey Blackwell, leading Knights to 2017 Alabama Class 4A second round
Finished prep career with 180 tackles.
Brandon Lopes
LB, 6-1, 220, Stockbridge, Georgia (Stockbridge HS)
Before APSU:
Posted 44 tackles in senior season, leading Stockbridge High School and head coach Kevin Whitley to 2017 Georgia Class 5A State quarterfinals
Finished prep career with 106 total tackles
Named honorable mention all-region as a senior following second-team Class 4-5A All-Region accolades as a junior
Selected to play in Florida-Georgia High School All-Star game after senior campaign
Nasir Love-Porter
DB, 5-11, 165, Dalton, Georgia (Dalton HS)
Before APSU:
Led Dalton High School and head coach Matt Land to 2016 Georgia Class 6A State semifinals
As a junior, was a honorable mention All-State pick by the Georgia Sports Writers Association after intercepting six passes – second-most in his classification – and defending 15 passes total
Posted three interceptions as a senior while also playing as an all-purpose back
Finished senior season with 448 all-purpose yards, including 362 total kick return yards.
Darius Nalls
WR, 6-2, 185, Fayette, Alabama (Fayette County HS)
Before APSU:
Helped Fayette County and head coach Lance Tucker to 2017 Alabama Class 4A State Championship game
Finalist for Alabama Sports Writers Association's Class 4A Back of the Year and was a First-Team All-State selection as a senior
Caught 11 passes for 108 yards in state championship game against UMS-Wright
Finished senior year with 1,659 receiving yards – second-most in Alabama prep history
Also playing basketball for Fayette County and set Alabama High School Class 4A record with 60 points scored in a game this season and is averaging 27.2 points per game.
Darius Shipp
DT, 6-3, 300, Olive Branch, Mississippi (Lewisburg HS)
Before APSU:
Finished career with 93 tackles, 25 tackles for loss and seven sacks for Lewisburg and head coach Matt Gehrke
Second-team All-District 1-5A as a senior, finishing season with 30 tackles, including six tackles for loss
Also was 2017 state runner-up in powerlifting, competing in the 308-pound weight class he posted a 650-pound squad, a 355-pound bench press and a 595-pound dead lift.
Bucky Williams
OL, 6-6, 285, Ringgold, Georgia (Ringgold HS)
Before APSU:
A first-team Class AAA All-State pick by RecruitGeorgia.com and Honorable Mention All-State selection by the Georgia Sportswriters Association as a senior for head coach Robert Akins.