APSU Sports Information

Johnson City, TN – Austin Peay State University's softball team had two convincing wins, Saturday afternoon, at Betty Basler Field, as the Governors rolled past Jackson State, 12-2, and host East Tennessee, 9-0, in their first two games at the Buccaneer Classic.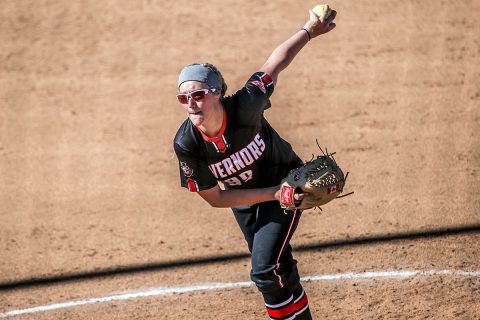 The Govs (8-7) pounded out 23 hits while scoring 21 runs in the two games, while the APSU pitching and defense limited its opponents to just two runs on seven hits, including picking up its season's third shutout in the nightcap.
Due to the threat of rain in the area on Sunday, APSU's game times have been moved up with its game versus Saint Peter's now starting at 8:00am (CT) and a rematch versus East Tennessee at 12:30pm (CT).
Follow the Govs softball team on Austin Peay's official athletics website Let'sGoPeay.com or on Twitter @AustinPeaySB.
Game 1
Austin Peay 12, Jackson State 2
The Govs put this one away early, scoring five runs in the first inning, highlighted by RBI doubles from Danielle Liermann and Morgan Rackel, a two-run single by Bailey Shorter and a RBI single by Kendall Vedder.
That would be more than enough for Austin Peay starter Kelly Mardones (3-2) to pick up the win as she held the Tigers scoreless in her three innings of work, allowing two hits while striking out three.
Austin Peay matched their opening frame with another five spot in the second inning, with Liermann blasting her seventh home run of the season – a two-run shot – while Kacy Acree had an RBI double and Vedder a RBI on a ground out.
The Govs would tack on single runs in the third and fourth innings, with Acree hitting her second home run of the season in the third and Vedder picking up her third RBI of the game in the fifth.
Game 2
Austin Peay 9, East Tennessee 0
The Govs would break open a scoreless pitcher duel with four runs in the top of the fourth inning, with APSU picking up five straight two-out hits, including RBI singles from Brooke Pfefferle and Natalie Schilling along with a two-run double by Acree.
The scoring outburst proved to be more than enough, with Rackel only allowing three hits and a walk in her complete-game shutout effort, while striking out nine.
Austin Peay put away the game late by scoring twice in the sixth inning, including a suicide RBI bunt by Vedder and an RBI groundout by Pfefferle.
The Govs closed out the night with three more runs in the seventh inning, with Vedder and Shorter picking up RBIs.
Inside the Box Score
With her home run versus Jackson State, Liermann moved into third-place alone on the Govs all-time home run list with 23 career blasts.
With her home run versus Jackson State, Acree moved into a 10th-place tie all-time on the Govs career home run list with 15 career homers.
In recording three doubles, Liermann now has 28 in her career, moving her into eighth-place all-time in APSU history.
In picking up hits in both games Saturday, Acree has now extended her consecutive game hits streak to 13 games – dating back to the final two games of 2017 – allowing her to tie for the longest such streak by an APSU player since 2000.
In picking up her second shutout, Morgan Rackel has become the first Govs pitcher since 2014 to record at least two shutouts in a season.
Coaching Quotables with Head Coach Rodney DeLong
On the good day at the plate
"It was definitely a good day offensively and it was good to see Kendall Vedder swing the bat well again. She's a piece that we need to get back into the lineup and she hit really well today
"As a team we hit to the middle of the field a lot and that was what I was pleased with. Maybe we're getting comfortable with that approach."
On pitching continuing to be solid
"We've been throwing the ball well lately. They started a little slow to begin the season, but they've made some great adjustments and they've given us a chance to win every time out. I really proud of our pitching staff and what they're doing.'
On seeing the team's confidence grow
"Having success is contagious for sure and I think they are starting to see that we are a good ball club and we can beat teams and consistently beat good ball teams. A big part of that is our mentality, and maybe we're starting to turn that corner.'