February Rates Decrease or Remain the Same in Nearly All Tennessee Counties

Nashville, TN – The Tennessee Department of Labor and Workforce Development today released the February 2018 unemployment rates for all Tennessee counties. The latest statistics showed improved rates for the majority of the state's counties during the month.
Montgomery County's unemployment rate for February was 3.8 percent, down 0.2 percent from January's 4.0 percent.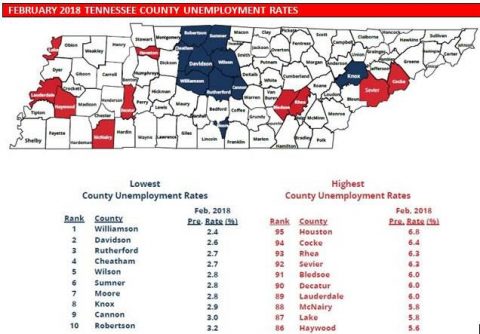 Sixty-nine of Tennessee's 95 counties saw lower unemployment rates when compared to January 2018.
The rates remained the same in 21 counties and increased in five counties.
"It is great to see unemployment rates decrease in so many counties during February," said Tennessee Department of Labor and Workforce Development Commissioner Burns Phillips. "While this type of rebound in February is typical after the state usually experiences a slight uptick in unemployment after the holidays, it is not a given."
Williamson County continued to have the state's lowest unemployment rate. The February rate of 2.4 percent is a decrease of 0.1 of a percentage point when compared to the previous month.
At 2.6 percent, Davidson County had the state's second lowest unemployment rate in February, which was 0.1 of a percentage point lower than January's rate.
Houston County had the state's highest unemployment rate in February at 6.8 percent, which is the same rate the county had in January. The latest statistic was 0.2 of a percentage point lower than the county's February 2017 unemployment rate.
Tennessee's statewide seasonally adjusted unemployment rate for February 2018 was 3.4 percent, a 0.1 of a percentage point increase from the revised January rate of 3.3 percent. The national unemployment rate for the month held steady at 4.1 percent.
The statewide unemployment rate is seasonally adjusted, while county rates are not. Seasonal adjustment is a statistical technique that eliminates the influences of weather, holidays, the opening and closing of schools and other recurring seasonal events from an economic time series.
A complete analysis of the February 2018 county unemployment rates can be found here. Additional information on labor statistics can be found on the state's workforce website, Jobs4TN.gov.