APSU Sports Information

Muscle Shoals, AL – Frigid temperatures and windy conditions are nothing new for Austin Peay State University women's golf. They've experienced those all spring.
And that experience proved to be beneficial Monday as they Govs opened up play at the 2018 Ohio Valley Conference Women's Golf Championships at the Robert Trent Jones at the Shoals Schoolmaster Course, Monday, to what has become the norm—high winds, low temperatures and slow-rolling greens.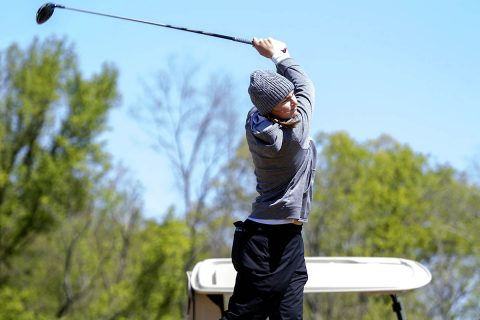 It was under these conditions that the Governors thrived Monday, firing a 312 to open play in a tie for third with Eastern Kentucky.
The Govs and Colonels are five shots behind tournament-leading Murray State and four back of Jacksonville State, with Tennessee Tech (313) lurking in the top-five.
"We had to fight today," said interim head coach Amy McCollum. "The wind was brutal. Between the wind and the general nerves, we had to battle today. Tomorrow's conditions should be better, and I'm very happy with where we're at.
"All spring, it's been frustrating to play in the wet, cold, windy conditions. But in terms of mental toughness and what we've had to get used to on the course, it made us a lot more confident in dealing with today's circumstances."
Junior Reagan Greene paced the Govs on a day when only one golfer in the entire field (Murray State's Lucila Puente Rodriguez) was able shoot even-par or better; Greene was two over with a 74, tied for fourth, and can thank her exemplary long game for the standing.
She was one of just eight golfers to average under-par (4.75/hole) on par-5 efforts and doubled as Austin Peay's leader on par-4 (4.20/hole) attempts. She birdied three holes—the 12th, the 14th and the par-5, 479-yard No. 4 that saw just four birdies in the opening round and 19 of the field's 45 competitors shoot bogey or worse.
In her first career round at the OVC Championships, sophomore Meghann Stamps proved the moment was none too big for her; the Hendersonville, TN native's four-over 76 has her in a tie for seventh after 18 holes. She led the tournament in pars over the opening round, with 15 in 18 holes.
Where Greene and Stamps were making their inaugural forays into OVC Tournament golf, senior AnnaMichelle Moore is making her fourth and final trek through the championship and she let her experience do the talking on Monday. The Clarksville native sits just outside the top-10 in 13th after a six-over 78 in the opening round. She leads the Governors in par-3 scoring (even-par 3.00/hole) and sank the only non-Reagan Greene birdie on the par-3 at No. 10.
Both Ashton Goodley and Taylor Goodley, who came into the tournament slotted in as the Governors No. 1 and No. 2 players, expect big bounceback days on Tuesday. The twins from Eldorado, Illinois shot matching 84s in the first round, tying for 30th; Ashton in particular seemed to find her stroke as the day went on, sinking pars on six of seven holes to open the back nine.
"Reagan and Meghann played great," McCollum said. "AnnaMichelle fought for that 78. The twins had to fight, but I'm confident in their abilities to bounce back tomorrow."
Round two action begins 8:50am (CT), Tuesday, with the Governors slated to be paired with Tennessee Tech and Morehead State.