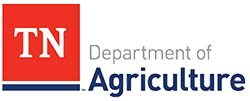 Nashville, TN – Are you a gardener gearing up for the growing season? Local farmers markets, on-farm greenhouses, and retail garden centers are filling with gorgeous flowers and vegetable plants that promise bountiful harvests.
Experienced plant lovers know that sometimes plants can look beautiful in the store, but will soon wilt once planted. Worse, they can bring bugs and blights into your home.
You can buy with confidence that your purchases are disease and pest free when you buy plants grown in Tennessee. Plant inspectors from the Tennessee Department of Agriculture (TDA) work closely with Tennessee greenhouse and nursery growers to be sure plants are healthy before they leave the field or greenhouse.
Inspectors from TDA's Consumer and Industry Services division help growers access the latest information on emerging diseases and pests. Inspectors and growers work as a team to quickly identify threats and treat plants to keep problems from spreading. Only certified disease and pest free plants are allowed to be transported in Tennessee.
Plants grown close to home are varieties that will thrive in your area. They haven't been stressed by traveling long distances, and they haven't been left on pavement in punishing sun. Further, when you buy directly from a grower at a local farm or farmers market, you will receive expert advice on where and how to plant your purchases, which leads to lush plants and delicious produce.
Find Tennessee farmers markets, nurseries, greenhouses, and retail garden centers with locally grown plants with the Pick TN mobile app or on the Pick Tennessee website. Pick Tennessee Products is the Tennessee Department of Agriculture's service to connect farmers with consumers. Follow Pick Tennessee on Facebook, Instagram and Twitter for seasonal updates about farm products and activities.