Clarksville, TN – In his retirement, Dr. Philander Claxton, the former U.S. Commissioner of Education under Presidents Taft, Wilson and Harding, felt a lingering nostalgia for his time in Clarksville, where he served as the second president of Austin Peay Normal School. He retired from the school in 1946.
"I accepted the presidency of Austin Peay Normal School because it had been founded for the purpose of preparing teachers for the rural schools," the 90-year-old Claxton wrote in 1953. "As long as I was president, I did all I could to hold it to that purpose, which was and still is the most difficult and important part of an educational system."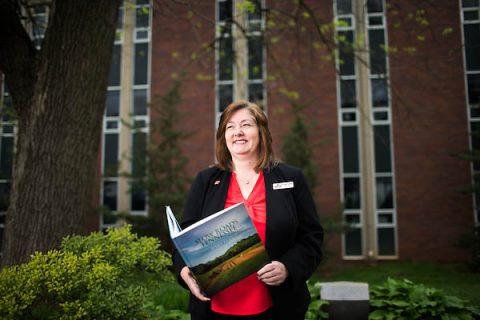 More than half a century later, Claxton's passion for rural schools remains intact at Austin Peay State University with the creation of a new Center for Rural Education.
The Center, housed within APSU's Martha Dickerson Eriksson College of Education, was developed to enhance the educational experiences of children in nine rural Tennessee counties— Houston County, Benton County, Humphreys County, Decatur County, Perry County, Wayne County, Hickman County, Lawrence County and Lewis County.
"Those rural counties have limited resources because they are situated away from populated areas," Dr. Cheryl Lambert, assistant professor of education and the Center's coordinator, said. "They are just outside the service area for our student teachers. What we will do, through our teaching initiatives, is identify students interested in serving those rural areas and obtaining teaching positions in rural schools. We want to identify them, create scholarships for them to complete their education at Austin Peay and help districts staff those hard-to-fill positions."
Schools in rural areas, according to recent research, suffer from "higher per-pupil cost, higher poverty rates, population decline, hard-to-staff positions with high teacher turnover, geographic isolation and resistance to innovation."
Lambert understands many of the issues these school districts face. She joined the APSU College of Education in August 2017, after a career as a teacher and administrator in West Tennessee. Her doctoral dissertation focused on rural education, and she is using this expertise to develop the new Center.
"We would like to launch the Center this fall, with our first initiative targeting Houston and Humphreys counties," she said, "focusing on collaborations with district leaders from these River Ribbon counties (located along the Tennessee River) to develop quality professional development opportunities for teachers."
Earlier this year, the Center's executive committee contacted school district leaders in these counties and learned that they desperately needed professional development in the STEM (Science, Technology, Engineering and Mathematics) fields.
"They (district leaders) told us they would be perfectly willing to participate in any research endeavors in their schools. They are passionate about helping their students," Lambert said. "This fall, we are looking to provide services and collaborate on preparing professional development for their teachers. We are looking at grant funding to start with some areas of STEM, to help teachers educate students in these areas."
The Center's executive committee is continuing to look for additional funding sources to expand its services, to offer professional development, to help with teacher recruitment and to increase the number of college graduates from those schools.
"The rural counties have a large percentage of their students who graduate from their high schools, but a very small percentage actually go to college," Lambert said. "We are seeking to reach those students in the rural areas that may not feel they have the available resources or accessibility to a university.
"Dr. Claxton recognized the importance of supporting rural areas and rural schools," she said. "We are continuing with that mission."
For information on the new APSU Center for Rural Education, visit http://www.apsu.edu/education/ruraled