Clarksville Police Department

Clarksville, TN – It was a perfect day for a couple, married almost 60 years, to take their houseboat named "Dream Catcher" on the river for a spin.
Shortly after Robert and Yvonne Workman pulled their house boat away from the Clarksville Marina dock on Friday, July, 27th, 2018 about 200 yards into the channel, the right motor shut down. As they tried to restart the motor, something blew up and fire appeared. The fire occurred around 12:30pm.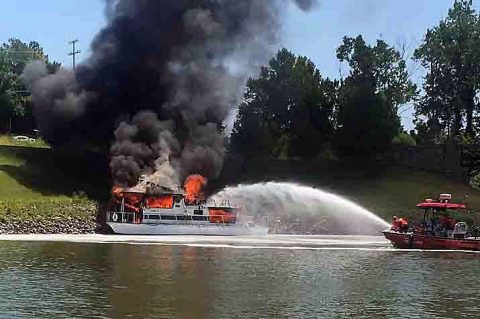 As Mr. Workman grabbed a fire extinguisher and headed toward the fire, it only took a moment to determine the fire was too large to put out with the extinguisher he had.
The Workmans donned their life vests and safely abandoned ship, which quickly became fully engulfed with flames.
Clarksville Fire Rescue arrived on scene and put out the fire.
The Clarksville Marina is located at 1190 Cumberland Drive.
The reason for the fire has not yet been determined.
Photos
Video