Clarksville-Montgomery County Green Certification Program (CMCGCP)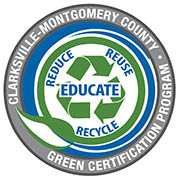 Montgomery County, TN – The Griffis Team of Exit Realty Screamin' Eagle is the latest organization to join the Clarksville-Montgomery County Green Certification Program (CMCGCP).
A green ribbon cutting was held in their honor on the morning of Tuesday, August 21st, 2018. City of Clarksville Chief of Staff Heather Fleming, CMCGCP Steering Committee member Rose Melton (Altra Federal Credit Union), CMCGCP Steering Committee member Bill Harpel (City of Clarksville), and CMCGCP Manager Carlye Sommers attended the ceremony.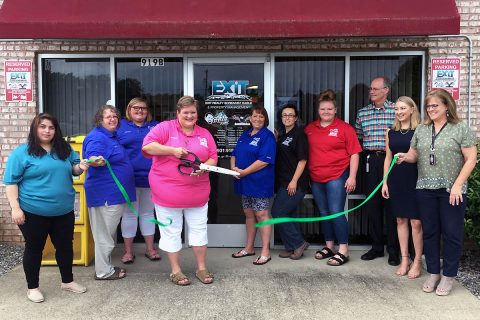 As a result of going through the Program, The Griffis Team, led by agents Michael and Amanda Griffis, have increased their recycling efforts and energy conservation.
Amanda stated "When we began the Program we were focusing on recycling white paper and we then expanded that to cardboard, glass and aluminum can recycling. We sort the materials and employees bring the recyclables to the local convenience center on the weekends. All of the employees are involved in the process."
Employees were on hand for the celebration and discussed how they and their family members also recycle at home. Some even bring their materials into the office for recycling. In addition to recycling, the staff diligently turn off lights in unoccupied areas and use occupancy sensors. They have also adjusted the thermostat by three degrees which saves on energy and utility costs.
In addition to their great commitment to environmental stewardship, The Griffis Team is also committed to honoring our heroes. If you visit their office, located at 919 Tiny Town Road, you will find their Wall of Honor, displaying photos of men and woman who serve in the military or are in law enforcement. The Team encourages anyone in the community to bring such a photo into their office to add to the wall.
The Griffis Team are licensed real estate agents that assist home buyers and sellers. They have years of experience serving the Clarksville community and understand the needs of their clients. Their dedicated staff and agents are local and have experience with all real estate needs including new construction and military relocation.
If you are in the market to buy or sell a home, or even if you just have a question, do not hesitate to reach out to The Griffis Team. They can be reached by phone at 931.919.5100 or visit them online at www.thegriffisteam.com
If your organization would like more information on the Clarksville-Montgomery County Green Certification Program, contact Carlye Sommers at or call 931.245.1867.
You can also find information about the Program and the over 100 Green Certified businesses at www.mcgtn.org/green