Austin Peay State University

Clarksville, TN – Austin Peay State University student Jordan Miller's research project this summer might change the way you see the road.
Or, more specifically, it might change the way your car sees the road.
The Austin Peay computer science senior and White House High School graduate is one of 11 undergraduate students from across the country who ventured to Florida to work with professors at Florida Atlantic University's Institute of Sensing and Embedded Network Systems Engineering.
Miller was selected for the paid, nine-week program to work with Dr. Jinwoo Jang, an assistant professor in FAU's Department of Civil, Environmental and Geomatics Engineering.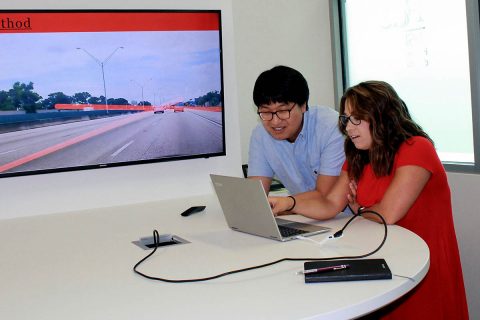 Their project: Program equipment on self-driving cars to "see" deficiencies in road markings – gaps in the white and yellow lines on the pavement – and report those problems so local government can fix any problems.
As Miller points out, self-driving cars need road markings to stay on the road (and to perform other basic driving maneuvers).
"If the markings aren't on the road, they can't function," she said. "(Road markings) might not be a big problem now, but once all the cars on the road get to be self-driving, the lanes are going to be super important."
Miller thinks her research is unique: "Nobody is working on whether something needs to be repainted or not. People are working on the classifying (cars seeing road markings)."
Her research will be more important as cars become smarter and cities become more connected.
Miller wrapped up her time at FAU in early August, but her research continues.
"The experience was amazing, and I got to learn a lot about life as a graduate student," she said. "I ended up implementing an 'almost real-time' solution where a webcam placed on the dash of a car takes videos in one-minute intervals and feeds them into the lane-detection algorithm.
"Future work will be to implement a real-time solution with a neural network and the GPS which tells the local government where the line does not exist."
Miller attributes her recent success to Dr. John A. Nicholson, associate professor in Austin Peay's Department of Computer Science and Information Technology. He persuaded her to apply for the FAU program, which is funded by the National Science Foundation.
Miller plans to graduate from Austin Peay in December.
She's eager to get back to work on robotics research with Nicholson and apply for computer science Ph.D. programs that focus on robotics.
To Learn More
To read more about the program Miller completed, visit http://isense.fau.edu/reu/reu-home-2018.php