APSU Sports Information

Clarksville, TN – The pomp and circumstance associated with Homecoming is made that much more fun when you win the game, as Austin Peay State University's (APSU) football team found out in administering a 41-10 drubbing to Tennessee Tech at Fortera Stadium, Saturday.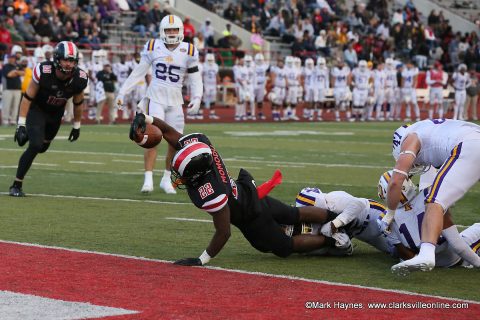 A balanced Austin Peay (4-4, 2-3 Ohio Valley Conference) attack saw the APSU Govs roll up 287 yards rushing and an additional 279 through the air, including five touchdowns from the arm of sophomore quarterback Jeremiah Oatsvall–three to DJ Montgomery and two to Baniko Harley–to tie an Austin Peay record.
The Govs got on the board early and never relented. After forcing an opening-drive punt from Tennessee Tech (0-8, 0-5), the Govs opening salvo was a deep bomb from Oatsvall to a wide-open Montgomery, who ran under it and jogged in unabated for the score.
Although a two-point try went for naught, the Govs had the opening drive they sought—a nine-play, 91-yard caper mixing run and pass to equal effect.
The Golden Eagles chewed up the end of the first quarter and the beginning of the second with a 17-play drive that yielded a 24-yard field goal by Nick Madonia, but Austin Peay answered with a long march of its own.
Three rushes led to a fourth-and-one opportunity to open the drive, and head coach Will Healy elected to keep his offense on the field—a smart bet against a defense that was giving up a league-high 6.4 yards per rush entering the game and a move that paid off when Tre Nation picked up four yards and the first down.
An Oatsvall-to-Kadeem Goulbourne strike netted 32 yards and put APSU near the red zone as they continued to wear down the Tennessee Tech defense, which ultimately broke when Oatsvall found Montgomery from four yards out on third-and-goal for the duo's second score of the night.
When the Govs took over next—after a short Tennessee Tech punt that could've pinned the Govs deep but instead left them on their own 23-yard line—Oatsvall engineered another long drive, converting another fourth-and-short opportunity, again with Nation as the battering ram, to keep the drive moving.
This time junior Prince Momodu found pay dirt on an eight-yard touchdown run, his season's third, to send the Govs into the locker room with a 20-3 advantage.
Austin Peay got the ball to start the second half and needed all of four plays following the halftime crowning of LaQuandra McGhee and Jake Bumpus as Homecoming Queen and King to add another score. This time Oatsvall swung a short pass to Harley and the fleet-footed quarterback-turned-receiver from Birmingham did the rest, racing 65 yards for the score. 27-7, Govs on top.
Seven plays later—after a Golden Eagle three-and-out, a punt and two plays from scrimmage for the Govs—Oatsvall again found Montgomery and the 6-2 senior used his length and athleticism to make a leaping grab of a 37-yard strike in the end zone to all but ensure victory for the Govs.
The teams would trade a pair of scores late in the third—a 23-yard pass from Bailey Fisher to David Gist for Tennessee Tech's lone touchdown of the day, followed by a 12-play, 75-yard Austin Peay march that ended in a Oatsvall pass to Harley from eight yards out, but the Golden Eagles failed to put a dent in the Austin Peay lead after that.
Oatsvall was resplendent, going 15-of-19 through the air for 279 yards and the aforementioned five scores—tying not only JaVaughn Craig's school-record outing against Tennessee State in 2016 but making him just the third OVC quarterback this season with five passing touchdowns in a single game. He's also the first Austin Peay quarterback since Dennis Dyer in 1968 to throw four or more touchdowns in two different games in the same season.
His favorite target was Montgomery, who caught four passes for 111 yards, while Harley caught three passes for 86 yards—both career-highs—and the first two touchdown receptions of his career.
The APSU Governors ground attack was led by Kentel Williams (16 carries, 97 yards) and Nation (15 carries, 74 yards), with Williams tallying a team-high 121 all-purpose yards (97 rushing, 18 kick return, 6 receiving). Defensively, Malik Davis and Gunnar Scholato led way with seven tackles apiece, while Nate Howard kept up his strong senior campaign with 2.0 tackles for loss.
The victory ran Austin Peay's home winning streak to five games, the program's longest since 1980-81. The Govs have an opportunity to make it six in a row at Fortera Stadium next week when Eastern Kentucky visits for a 4:00pm kickoff.
Photo Gallery