Austin Peay State University (APSU)

Clarksville, TN – The All State student newspaper at Austin Peay State University (APSU) earned six national awards during the 2018 Fall National College Media Convention held in Louisville, Kentucky, October 25th-28th, 2018.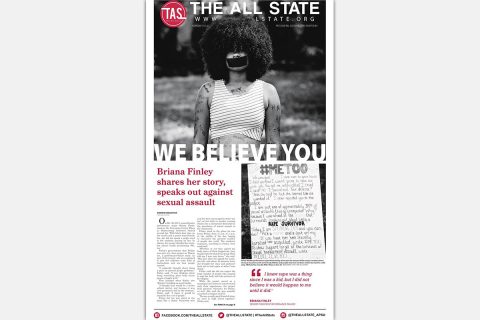 The All State student newspaper earned the following awards:
ACP INDIVIDUAL AWARDS

Second Place: Shania Green, junior and senior graphic designer, Cartoon of the Year for Editorial Cartoon
Fifth Place: Shania Green, junior and senior graphic designer, Design of the Year for Illustration

ACP BEST OF SHOW AWARDS

Fourth Place: Multimedia Package
Tenth Place: Website (schools with more than 10,000 students)

CMA PINNACLE AWARDS, BEST OF COLLEGIATE DESIGN

Second Place: Celeste Malone, graduate student and former editor-in-chief, Best Newspaper Nameplate
Third Place: Celeste Malone, graduate student and former editor-in-chief, Best Newspaper Front Page
The ACP Individual Awards had more than 2,500 entries and spanned 29 individual award categories. Roughly 11 percent — 281 entries — were selected as finalists. The CMA Pinnacle Awards set a record this year with 408 total organizational entries from 294 colleges/universities across the country and 2,608 total individual category entries from 320 colleges/universities.
Middle Tennessee State University and Vanderbilt University were the only other Tennessee schools to earn national awards at the conference.
Attending the conference from The All State student staff were Joann Morales, junior and photo editor; Maisie Williams, freshman and staff writer; Courtney McCormick, junior and chief copy editor; and Green.
Green Awarded For Handgun Cartoon
Malone earned her two national awards for an illustration using zombie hands and a front-page layout using a student newspaper photograph and story about a #MeToo movement event on campus.
"I am so thankful for the opportunity to represent APSU and The All State," she said. "This organization is more than just a job, it is a teaching tool to help students reach their fullest potential."
Malone currently serves on the APSU Board of Trustees as the student representative.
'Talented Writers, Designers On Our Team'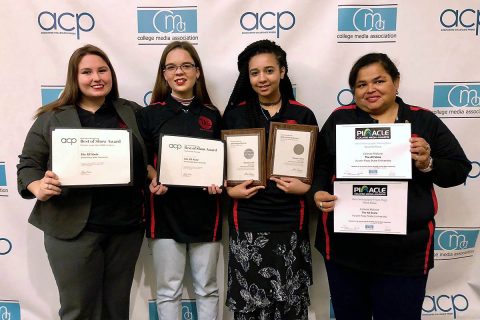 "I couldn't get the smile off my face as I heard about each award announcement," said Ashley Thompson, editor-in-chief. "We are lucky to have such talented writers and graphic designers on our team. I am very proud of all the work our staff puts into the paper. These awards are all well-earned."
"I felt like the conference aided me in many different ways," McCormick said. "I am definitely thankful to have had that opportunity to attend workshops and network."
McCormick and Williams spent a lot of time working on a multimedia package related to former Tennessee Governor Phil Bredesen's Senate campaign visit to APSU.
"What I did not expect [during the conference] was that I would gain the greatest insights from hands on experience with my fellow staff members," Williams said. "Through working in direct partnership with Courtney on both the editing and implementation of multimedia aspects to the Bredesen article, we were able to not only attain fourth place in Best of Show, but also to create an incredible article which would not have existed otherwise."
The conference was co-sponsored by the Associated Collegiate Press and the College Media Association with more than 275 sessions offered on various topics.
The All State is housed in the Department of Student Publications, which is part of the Division of Student Affairs.
The All State student newspaper publishes each Wednesday in print and is distributed on APSU's Clarksville and Fort Campbell campuses.
For More