APSU Sports Information

Nashville, TN – As opening statements go, Austin Peay State University track and field made a nice one at the Vanderbilt Opener, Saturday. Many incumbent athletes showed that they had not been idle since last May's Ohio Valley Conference Outdoor Championships, and several newcomers also shined in their first appearances as Governors.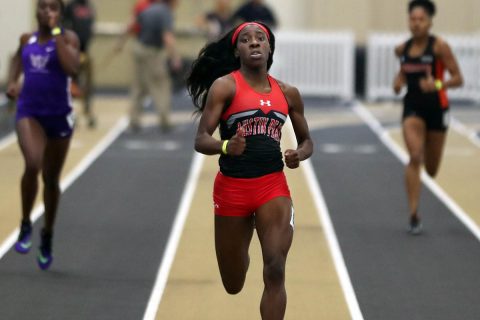 Tradition being tradition, Austin Peay posted some outstanding marks in the pole vault to open the season.
Senior Savannah Amato opened her final indoor campaign by finishing third overall (second among collegiate competitors) with a 3.95m mark—the highest season-opening mark of her career.
Senior Dascha Hix's 3.85m was a personal-best indoors and earned her a fourth-place showing among collegiate competitors, while sophomore Morgan Bradley placed fifth in the collegiate group at 3.55m.
A win is a win and a record is a record, even in the non-standard 300m dash, which is what sophomore Sabrina Richman earned on Saturday with a record-breaking 38.95 run that took both the school and meet record.
Junior Amelia Thiesing followed closely at 39.92, while freshman Kyra Wilder's debut yielded a 40.15 mark and a seventh-place finish; all three Governors won their heats in addition to finishing near the top of the pack overall.
Staying on the track, junior Tymeitha Tolbert opened the season with a fourth-place, 7.66 mark in the 60m dash—a sprint that puts her just over a tenth of a second off the school record she set at last season's OVC Indoor Championships. Freshman Tiyanna Johnson also won her heat in the 60m dash with a 7.79 mark, finishing just outside the top-10 in 11th in her debut.
Elsewhere on the track, junior Kaitlyn Black's personal-best 9.09 60m hurdle mark placed her fifth in the event; she was joined near the top of the 33-runner field by sophomore Kamille Dunbar, who finished eighth with a personal-best 9.19 run.
Reversing course to more field events, sophomore Denia Hill-Tate got her high jump season underway at 1.63m, just shy of her personal-best 1.65m at last year's Ed Temple Classic at Tennessee State; she finished sixth.
In her Austin Peay debut, freshman
Kori McDaniel
earned a 10th-place finish in the weight throw with a 14.98m mark—the best toss by an Austin Peay athlete since the 2012-13 season. She also tossed 12.81m in the shot put to take seventh.
To cap the day, Austin Peay put Richman, Thiesing, Wilder and sophomore Allana Johnson put together a 3:58.13 mark in the 4x400m relay, earning a seventh-place finish.
"It was a pretty good opening meet for us," said head coach Doug Molnar. "Sabrina was extremely aggressive going for the 300 record; in fact, our top three 300 runners broke our old school mark. Tymeitha and Tiyanna both had solid efforts in the 60 and the vaulters picked up right where they left off a year ago. We're very pleased with how we did overall."
Austin Peay will conclude the pre-Christmas portion of the indoor schedule next week at the Saluki Fast Start in Carbondale, IL.