Written by Leon Roberts
U.S. Army Corps of Engineers, Nashville District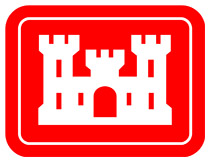 Nashville, TN – The U.S. Army Corps of Engineers Nashville District is in the process of supplementing the Lake Barkley Master Plan reclassifying the Lock C site in Montgomery County, Tennessee, from "Multiple Resource Management – Low Density Recreation" to "Multiple Resource Management – Future/Inactive Recreation Area."
This designation would allow the Corps of Engineers to reassign the area to the U.S. Army Garrison at Fort Campbell, KY.
The Lock C site has historically been used by the Army to transport equipment on the Cumberland River.
In 2018, the Corps issued a permit to Fort Campbell for the purpose of loading and unloading barges along the shoreline of a 14.64-acre portion of the site. The permitted area has visual remnants of the old lock wall, contains a rudimentary boat ramp, and currently receives light recreational usage from boaters and bank fishermen.
The Army has subsequently requested more proprietary control over the area and the Corps has agreed to reassign the area to Fort Campbell. This reassignment would allow the Army to construct security fencing, gates, and barricades to restrict public access to the site.
The reclassification of the Lock C site and its reassignment to Fort Campbell allows the Army to exercise full operational control for military utilization of the area. The Army may fully exclude public use of the property including stopping recreational use.
Public access to the site may be completely restricted due to the incompatibility of recreational use with the proposed military use of the area. Fort Campbell will be responsible for the construction, operation, and maintenance of security fencing, gates, barricades, etc., and responsible to enforce restrictions.
In the future, if the Army abandons its military use of Lock C, a reversionary clause will require the area to be restored and improvements such as buildings, barriers, and fencing removed prior to the reassignment of the land back to the Corps of Engineers.
Certain improvements such as roadway and ramp improvements may stay in place if they could be utilized for recreational purposes under a parks and recreation lease by state or local government. Any future development would require an environmental review and comment period.
These proposed changes are also being evaluated in accordance with the National Environmental Policy Act (NEPA) and USACE implementing guidance Engineering Regulation (ER) 200-2-2.
The Nashville District is currently preparing an Environmental Assessment (EA) to assess the impacts of this action to ensure compliance with NEPA and all other applicable Federal acts and executive orders.
This release serves as notification to the public and concerned agencies that is an integral part of supplementing or updating Nashville District project master plans. Comments and questions may be submitted within 30 days of the date of this release by contacting Scott Fanning by email at or by telephone at 615.736.7831.
It is the Nashville District's intent to finalize the Lake Barkley Master Plan Supplement at the end of the comment period, April 26th, 2019.
News and information regarding flooding impacts to Nashville District recreation areas will be made available on the district's website at www.lrn.usace.army.mil, on Facebook at www.facebook.com/nashvillecorps, and on Twitter at www.twitter.com/nashvillecorps