APSU Sports Information

Champaign, IL – It was business as usual for the Austin Peay State University (APSU) women's tennis team, as they remained unbeaten after a 7-0 win over Eastern Illinois, Friday.
The Governors (17-0, 5-0 OVC) remained unbeaten and saw Helena Kuppig extend her winning streak in singles to 13 matches, now tied for fifth all-time in program history.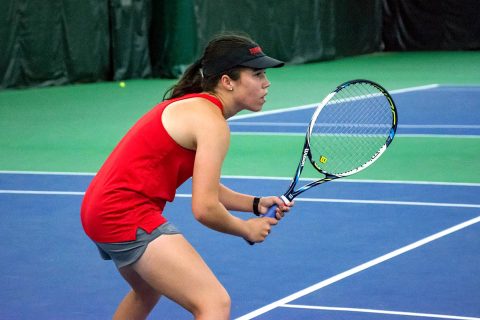 The Yanes Garcia twins won at No. 2 doubles, 6-1, to start things for the Govs.
Not even two minutes later, Danielle Morris and Fabienne Schmidt won by the same score at No. 3 doubles to give the Govs a 1-0 lead going into singles. Tatiana Lopez and Honoka Nakanishi's 11-match win streak stayed alive as their match went unfinished with the pair leading 4-3.
The Govs dominated once again in singles. Lopez was first off for the Govs with a 6-0, 6-2 win, before Kuppig won 6-0, 6-1 to put the Govs up 3-0. The Panthers (11-8, 2-3 OVC) simply had no answer for the Govs, as Morris won 6-0, 6-1 to clinch the match for the Govs.
Lidia Yanes Garcia and Claudia Yanes Garcia each picked up straight-set wins, before Schmidt rounded the day off with a win at No. 4 singles to help the Govs remain undefeated.
The Govs stay in the Prairie State to take on SIU Edwardsville tomorrow at 11:00am.
Box Score
Austin Peay 7, Eastern Illinois 0
Doubles
1. Tatiana Lopez/Honoka Nakanishi (APSU) vs. Rachel Papavasilopoulos/Srishti Slaria (EIU) 4-3, unfinished
2. Claudia Yanes Garcia/Lidia Yanes Garcia (APSU) def. Claire Martin/Shelby Anderson (EIU) 6-1
3. Danielle Morris/Fabienne Schmidt (APSU) def. Abby Carpenter/Karla Contreras (EIU) 6-1
Singles
1. Claudia Yanes Garcia (APSU) def. Rachel Papavasilopoulos (EIU) 6-4, 7-5
2. Lidia Yanes Garcia (APSU) def. Srishti Slaria (EIU) 6-0, 7-5
3. Tatiana Lopez (APSU) def. Claire Martin (EIU) 6-0, 6-2
4. Fabienne Schmidt (APSU) def. Abby Carpenter (EIU) 6-4, 6-2
5. Helena Kuppig (APSU) def. Karla Contreras (EIU) 6-1, 6-1
6. Danielle Morris (APSU) def. Shelby Anderson (EIU) 6-0, 6-1
Order of finish: Doubles (2,3); Singles (3,5,6,2,4,1)