Clarksville, TN – Head coach Naomi Kolarova with the Austin Peay State University (APSU) women's soccer team has released the 2019 schedule, featuring seven regular season contests at Morgan Brothers Soccer Field.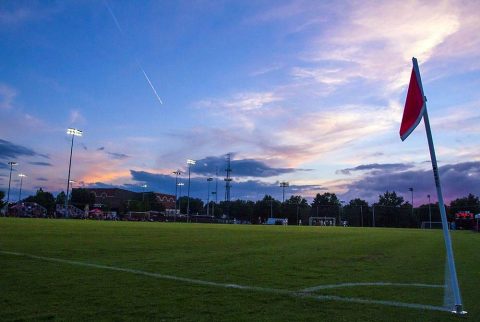 The Governors will field many fresh faces this season after losing 11 total players from Kolarova's first season in charge, but return Second Team All-Ohio Valley Conference honorees Claire Larose and Renee Semaan.
"We face a few of the same foes we normally play in teams such as Chattanooga, Middle Tennessee, and Evansville," said Kolarova. "We enjoy those games and we are always in the running to pull some results out of them, as evident by our 3-0 record against them last year.
"We have a tough couple of road games in Colorado early on as well, but the trip will be a top experience for our players. We know the altitude there will make it more difficult and Colorado and Northern Colorado have had successful years recently, so we know the competition there will really test our team," Kolarova stated.
The Govs will play two exhibition games as tune-ups before the regular season, playing host to Georgia State (August 12th) and then traveling to Western Kentucky (August 18th).
The Govs officially open the season with a pair of road matches the following weekend, taking on Chattanooga (August 23rd) and Middle Tennessee (August 25th). The Govs defeated both teams at home last season by one-goal margins.
The home regular season opener will also be against a team the Govs defeated last season, as Mercer makes the trek to Morgan Brothers, August 30th.
From there, the Govs embark on a long road trip to the Rocky Mountains, facing off against Colorado, September 5th, before lining up against Northern Colorado, September 8th.
After a week off, the Govs come back to Clarksville for a home match against Evansville, September 15th, before the Govs open OVC play at home against SIU Edwardsville, September 19th. Only two days later, the Govs travel to Cincinnati for the last non-conference match of the season, but return home for two more OVC matches against Southeast Missouri (September 27th) and UT Martin (September 29th).
The month of October brings three straight road matches in three different states. The Govs travel to Kentucky to square off with Eastern Kentucky (October 4th), but then return to Tennessee to take on Tennessee Tech (October 6th). The OVC road tour ends with a match at Jacksonville State, October 11th. Last season, the Govs defeated all three teams by a 9-1 total margin.
The following weekend sees Morehead State visit Clarksville, October 18th, before the Govs make the short trek to rival Murray State for the Heritage Bank Battle of the Border, October 20th.
The Govs wrap up the regular season with their final home match against Eastern Illinois, October 25th, and then finish with a road test against Belmont, October 27th.
"We've purposely scheduled a couple more away games in 2019 because last season we were not as strong on the road and I thought the only way to overcome that hurdle was facing it head on," said Kolarova. "We have another big road game at Cincinnati before getting into the nitty gritty of OVC games, which, as always, will be a challenge.
"Last year, the conference was so close and we had two conference games we lost by a goal, so we are confident we can work our way into the top end of the table. We are really excited to see our recruiting class turn up and our returners step up, to see what we can achieve," commented Kolarova.