Clarksville, TN – Austin Peay State University freshman Mallory Fundora, founder and chief operating officer of the nonprofit Project Yesu, recently completed her first year at APSU, but before she can relax and enjoy her summer, she has to make a three-week business trip to Africa.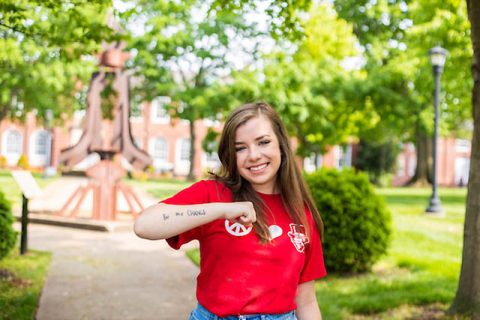 "We have an office building now on our land in Uganda," she said. "We're going to check that out, to make sure everything is still running smoothly."
Fundora, 19, has an easy, friendly demeanor, and it's rare to see her without a smile. Meeting her, it's sometimes difficult to realize that for the last eight years she's run an organization that feeds more than 500 schoolchildren every weekday in Africa.
"I usually don't start with that because it's kind of weird, but if it gets brought up, I definitely do talk about it, and everyone seems to be on board" she said. "And now we actually have a few students here sponsoring kids. As a college freshman, it can be hard to pay for things, so it means a lot to me to see an Austin Peay name pop up to pay for something."
Fundora arrived at Austin Peay last fall as a business major, eager to embrace the college experience while also growing her skills as the head of an international nonprofit. But as a member of the University's President's Emerging Leaders Program, along with serving as vice president of the Alpha Delta Pi sorority, she struggled with finding time to fit everything in.
"There was a little bit of a learning curve; it took me a while to get the hang of it and balance my time," she said. "I'm definitely very busy, and it's all about time management."
When she was able to scrape together a few free moments, Fundora met with business professors and members of the APSU Center for Service-Learning and Community Engagement to talk about developing a service trip connected to Project Yesu.
In January, Fundora and Dr. Victoria McCarthy, professor of business, made an exploratory visit to Uganda. They hope to offer a service-learning trip next year.
After Fundora returns from Africa this summer, she will prepare for her sophomore year at Austin Peay and a new program of study – she switched her major from business to social work, with a minor in nonprofit management. And she'll look forward to catching up with her friends from the University's PELP program.
"I've really enjoyed it, and it's been interesting to get to know my fellow PELP students," she said. "They're awesome, and they're all doing great things. They all have similar hearts to me."
For more information or to support Fundora's efforts, visit www.projectyesu.org